Late Dr Adadevoh's Family Threatens Legal Actions Against producers of Ebola Movie '93 Days'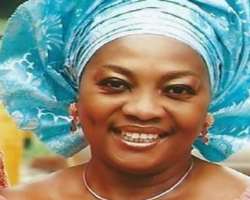 Nollywood is about telling the story the it is or should be and this is what the producers of the movie titled '93 Days' are facing as they are set to release the movie in some couple of months.
In a letter issued by Dr. Ama Adadevoh on behalf of the Cardosos and the Adadevohs in Lagos on Monday, the families faulted denied claims that they have given their consent to the movie.
The movie '93 Days' which is about the Ebola virus story "dedicated to" Dr. Ameyo Stella Adadevoh, according to the family is not suppose to carry the name of the late doctor and is yet to get any form of endorsement from the family.
Adadevoh stated, "It has been brought to our attention that a movie titled 93 Days written by Paul .S. Rowlston and produced by Native Filmworks, Michelangelo Productions and Bolanle Austin-Peters Productions is in works for imminent release.
READ ALSO: Photos Of New Ooni's Daughter Flaunting Sexy Legs
"The movie, about Nigeria's Ebola story and "dedicated to" Dr. Ameyo Stella Adadevoh is not endorsed by the family.
"The Adadevoh and Cardoso family has not consented to the use of the Stella Adadevoh's name, likeness or image for commercial profit. The family intends to hold the filmmakers legally accountable for any falsehoods and innuendos in the movie '93 Days' with regard to Dr. Adedevoh and her family."
Adadevoh is the first Nigerian to have died of Ebola after contracting it from American-Liberian diplomat Patrick Sawyer.
© 2016 Nollywoodgists.com. All rights reserved. This material may not be published, broadcast, rewritten or redistributed without the express written consent of the publisher
© 2016 Nollywoodgists.com