Frontiers News Publisher loses mother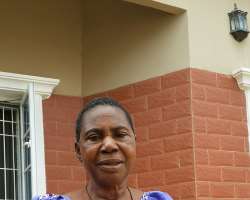 With gratitude to God for a life well spent on earth, the family of Late Joseph Egua of Idumu Iyasele in Esan South East Local Government of Edo State announces the passing away of their wife, mother, grand mother and sister, Mrs Lucy Egua, who transited into glory on January 3, 2016, at the age of 70 years.
The Late Mrs Lucy Egua, mother of Mr. Horatius Egua, Publisher of Frontiers Newspaper Online died after a protracted illness at her husband's residence in Idumu Iyasele, Ewatto, Edo State.
The Late Mrs Lucy Egua, a devout Catholic and a devoted mother known for her generosity and kindness in the community would be greatly missed by her children, friends, family members and the community where she lived.
Madam Lucy Egua is survived by her children, many grand children and many brothers and sisters.
Burial arrangements would be announced in due course
Sponsored Advert:
VACANCY! VACANCY!! VACANCY!!!
Job Position: Chief Accountant at an Agro-Allied Conglomerate in Delta State
Click here for details