Naira Holds Firm As Fx Market Resumes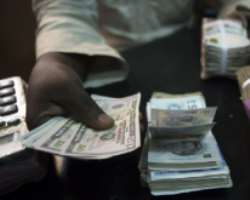 SAN FRANCISCO, January 04, (THEWILL) – The Naira traded stable against the dollar at the autonomous market in its first trading activity of the Nigerian foreign exchange (FX) market this year on Monday.
Although, it depreciated slightly in value at the inter-bank FX market, the Naira closed stable at N264/$ at the Bureau De Change (BDC) segment of the FX market, while it gained N2 or 0.75 percent to close at N266/$ compared with N268/$ on December 31, 2015, at the parallel market.
However, the Naira weakened against the greenback slightly by N0.02k or 0.01 percent at the inter-bank market. It closed at N199.37k/$ as against N199.35k/$ on Thursday December 31, 2015. The clearing rates of the Central Bank of Nigeria (CBN) remained stable at N197/$.
Meanwhile, the BDC operators have called on the government for intervention as regards increased supply of FX.
The weekly supply of FX was recently cut down to $10,000 from $30,000 for each BDC, by the CBN.
Andrew Elueni, Managing Director/CEO, Flawless Capital Limited, told BusinessDay that the amount of dollar being supplied to BDCs by the CBN was not meeting demand.
"We are not happy over the volume supplied to us. The government should find a way to increase supply in the market, otherwise the forex market will remain dull," he said.
"Nigeria's foreign exchange reserves declined by 15.61 percent year-on-year to $29.13 billion by December 29, from $34.52 billion a year ago," data from the central bank showed on Thursday.
The forex reserves of Africa's biggest economy and top crude exporter also dropped by 2.6 percent in one month from $29.91 billion a month earlier, Reuters had reported.
The forex reserves fell to their lowest since July 1, 2015, when they stood at $29.07 billion because the central bank has been using the reserves to support the ailing naira in the wake of falling global oil prices.