Airlines Raise Fare By About 50%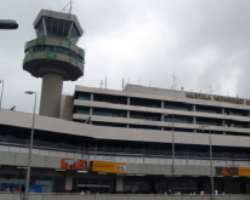 BEVERLY HILLS, January 04, (THEWILL)  – Airline operators in Nigeria have increased their fares by about 50% from, as travellers begin to return to their bases after the Christmas and New Year holiday.
At the ticketing counter of Aero, a one-way ticket from Enugu to Lagos was sold for N31,600 and at Arik it was sold for 46,400.
While FirstNation sold its ticket to Abuja for 19,000, Arik sold for N25,500, while the same ticket for an hour trip was sold for N28,600 at Aero.
TheWill gathered that there was an increase of passengers coming to Lagos from the Eastern part of Nigeria as against the number of passengers going.
A visit to Murtala Mohammed Airport terminal 2 yesterday, showed that Aero Contractor airline was full of passengers travelling from Enugu to Lagos, and Economy Class for Arik Air was also full, leaving passengers with the option to travel with the Business Class.
It was also observed that only three airlines – Medview Air, Aero Contractor and FirstNation Airways were operating, except for Arik Air that operates from the General Aviation Terminal (GAT) of the airport.
As travellers started coming into the Murtala Muhammed Airport terminal 2, which is usually a beehive of activities, especially at peak periods, this time, the ticketing counters were a bit free from the usual surge and some airline staff were seen attending to just few customers, while some were awaiting customers.
However, an airline staff was seen telling passengers to hurry to get their ticket as it increases by the hour. "You may not get ticket again because our last flight from Abuja to Lagos is 3.45pm, and it is already boarding," the airline staff said.
At the ticketing counter of Aero, the officer simply said: "If you are travelling now, the fare is N31,600 but for future trips, you can go online or visit our office upstairs."
During a phone conversation with a passenger travelling from Enugu to Lagos, he disclosed that his trip was important hence he could not afford to miss it even though the fare was on the high side.
Another passenger who intend travelling with his three children and wife, who does not want his name in print, said he had to cough out a huge sum of N232,000 for a trip on Aero for his family.
"My wife and I have to resume tomorrow, therefore we have no choice order than to travel today. We came to Enugu to celebrate with our parents and have to go back to work as directed by government," he said.
Meanwhile, Ajayi Adigun, a retired aircraft engineer from Nigeria Airways, earlier advised the airlines to take advantage of United States-Federal Aviation Authority (FAA) training programme known as Maintenance Resource Management (MRM) in order to improve on their aircraft maintenance.