Wike Gives Rivers First Female Chief Judge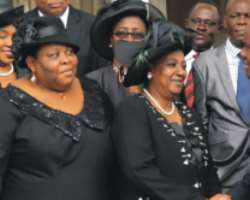 SAN FRANCISCO, January 04, (THEWILL) – Governor Nyesom Wike of Rivers State on Monday swore in Daisy Okocha as substantive Chief Judge of Rivers State, making her the first female Chief Judge of the state.
Attempts for her to assume the state's top judiciary position crashed during the immediate past administration of Chibuike Amaechi, following a strong misunderstanding between former Governor and Okocha.
The misunderstanding produced an unending drama that snowballed into the suspension of Rivers judiciary by the National Judicial Council (NJC) and closure of all courts in the state for upwards of a year while a subsequent strike by judiciary workers in the state worsened the situation.
The climax of the judicial impasse in the state was the absence of a Chief Judge to swear-in Wike as Governor of Rivers State on May 29, 2015, leading to the NJC intervening by drafting in the Chief Judge of neighbouring Bayelsa State to perform the function.
Okocha, who has few months before she retires from the judicial service, was sworn-in by Governor Wike, whose administration opened up the state's courts months ago.
The Rivers State government revealed that the NJC, in November 2015, recommended the extension of the appointment of Daisy Okocha as the acting Chief Judge of the state, from December 1, 2015 to January 15, 2016.