'WHY THERE IS PROLIFERATION OF NGOs IN NIGERIA´- HAUWA ABBAS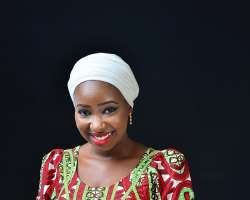 Hauwa Abbas:Caring for the needy
Hauwa Abbas wears different caps at different times. She is the founder and President of Silver Lining for the Needy Initiative (SLNI) a Non-Governmental Organization, established in 2009. Hauwa is also a certified personal and professional coach. Her role as a coach is to support individuals through the process of discovering their strengths, work on their limitations, achieve their goals and reach their full potentials.
A Rotarian and honoured to be Chartered President- Rotary Club of Abuja Federal 2015-2016, district 9125. Through SLNI, her team and herself have designed and delivered programs which have demonstrated unprecedented success in community mobilization, service delivery and awareness raising in the in the areas of reproductive, maternal, new-born, child and adolescent health. Hauwa is fond of a quote by Sarah Caldwell, "learn everything you can, anytime you can, from anyone you can".
In an interview with Mephy James the young lady who has touched thousands of vulnerable lives speaks on the challenges facing women and the girl-child in Nigeria among other issues.
Exerpts:
Some have argued that many NGOs in Nigeria were set up just to attract foreign grants, how would you react to this?
Hauwa Abbas: It must be noted that the failure of the states to provide specific services and opportunity for citizens and the constant need to bridge the noticeable gaps have led to the proliferation of NGOs in Nigeria. However, the governance structure of NGOs reveal their true motives especially when vested interests override true development principles in designing and costing programmes. Most foreign grantors have not always taken their time to do due diligence that enables them to see through the charade and they end up with bitter experiences. SLNI was uniquely set up with the core drive for humanitarian services. Most of our initial funding was mobilised mainly from personal, close relatives and individuals who wanted to give back but did not have the time or understanding on how to go about it. As such, it becomes obvious that SLNI was in the sector to deliver lasting value to lives especially women and children who needed just a little push to get the necessary quality of life that they long for. SLNI's governance structure and relentless undertakings to affect women and children is a testament to our uniqueness. The point i am making is that you can actually know the real NGOs from those just set up to attract foreign grants through their performance.
Also, I believe and encourage collaboration with partners both domestic and international. We have used various media outlets to address health challenges, this has contributed to increased health awareness in the lives of women and children in Nigeria. Our work has been featured in numerous Nigerian media outlets on health issues such as AIT Special Report, Leadership Newspaper, This Day Newspaper, NTA news 24, The Punch Newspaper, Daily trust, Kiss FM and Rhythm Radio Nigeria. We are proud to have sat on the various National committees to advocate for policy change, namely the First Nigerian National Vaccine Summit (2012) amongst others. We were recently featured in Aljazeera's report on reproductive health in Nigeria focusing on women in communities in Northern Nigeria.
What specific things has your NGO done to help children and mothers in the Northern part of your country?
Hauwa Abbas: In all modesty, we have done a lot. On the issues of Maternal Health/ development, we have undertaken several initiatives over the last six (6) years which include but are not limited to educating women in rural communities about their health like prevention, protection and treatment of pneumonia, use of long lasting treated nets for protection against malaria, proper handwashing techniques, preparation of home-made ORS solution for diarrhoea treatment, importance of prenatal, antenatal and postnatal care.
We have conducted healthcare services such as family planning, cervical cancer screening, voluntary counselling and testing services. Our NGO is conducting workshops for women diagnosed with HIV, providing Mama Delivery kits for rural women to ensure clean and safe delivery as well as providing folic acid for pregnant women. We provide vaccine related support. The NGO has conducted eye check-ups and distributed glasses to elderly widows and widowers in rural areas. Other things we do are trainings and workshops for women and coaching sessions for women and youth. Not only that ,we provide subsidies for school tuition and boarding fees as well as annual Summer School activities for the kids at the orphanages homes.
You are from the Northern part of Nigeria which is currently facing insurgency. Many of the suicide bombers are alleged to be young girls, what are you doing to enlighten young girls in that part of Nigeria.
Hauwa Abbas: We have been promoting education and we shall continue to do that in the years ahead. Primary education is a fundamental human right for every young child .That ensures growth to contribute towards the development and prosperity of our country. It is no longer news that education provides the gateway for fulfilment of economic, political and cultural functions. That is why we are supporting the education of a good number of girls. The more education we give them the more they will be less prone to radicalisation. Young girls must start to understand their vital role in the task of eliminating poverty. They have to understand that they are the mothers of tomorrow. Educated women can understand the needs of the family. I remember a sad case a few months ago in a state in Northern Nigeria concerning the misuse of Chlorhexidine 7.1% solution for umbilical cord care but was used as eye drops for babies. In this particular state, only 15% are literate. The rate of formal education is extremely low, so the question for us is how we can safeguard the lives of children from birth in Nigeria? Protection, guidance and support for every child should start from birth and continue until they reach adulthood. This is what we try to do at all times.
What solutions would you proffer to check the low rate of girl-child education in Nigeria especially the Northern part?
Hauwa Abbas: Dissuading and advocating against early marriages for the girl child in Nigeria. Marriage at a very young age leads women to conceive repeatedly, this affects different aspects of the young women's health. This solution alone can contribution to a huge reduction in infant and maternal mortality rates in Nigeria.
Enforcement of the mandatory 9-year basic education for the girl child by coercing parents to comply. Another thing that could be done is to provide incentives for the girl-child to remain in school through conditional Social welfare programmes like school feeding, performance based scholarships and so on.
What unique thing is your NGO planning for the vulnerable in the society in 2016?
Hauwa Abbas: We have plans to play a unique role in giving Internally displaced persons especially women and girls an opportunity to move on with their lives through empowerment programmes that will show them how to pick up from where they are and achieve their full potential.
The 2013 Nigerian Demographic & Health Survey reports that although almost all babies are breastfed in Nigeria (98%), only a minority (33%) of mothers achieve the WHO-recommended initiation within one hour of birth and fewer still (17%) continue to breastfeed exclusively for six months. The Nigerian breastfeeding initiative, a consortium of partners both domestic and international which includes SLNI have joined forces to build a public-private partnership with a very specific goal: to achieve an increase in rates for timely and exclusive breastfeeding in Nigeria. In 2016, SLNI intends to scale up breastfeeding awareness by educating families through our community outreach programs and Town hall meetings.
The initiative by partners will reduce the estimated annual 800,000 child deaths in Nigeria by 100,000. It is important to note that non-breastfed babies are 15 times more likely to die from pneumonia and 11 times more likely to die from diarrhoea.
SLNI has developed various programs over the years that are targeted towards vulnerable women and children in rural communities. We shall continue to mobilise funds, materials and supplies to meet their challenges.
Interview for The Voice magazine based in The Netherlands by Mephy James