Stock Futures Sharply Lower After Selloff In Chinese Stocks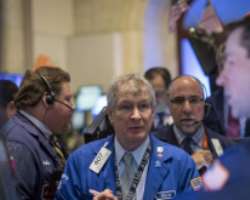 U.S. stock index futures were sharply lower after weak Chinese economic data reignited fears of a global slowdown, sparking a selloff in stock markets on the first trading day of 2016.
* Manufacturing surveys showed China's factory activity contracted at a sharp pace in December, while China's central bank fixed the yuan at a 4-1/2-year low.
* Mainland Chinese shares fell 7 percent on Monday, triggering a new circuit breaker that prompted suspension of trading. European shares were also down.
* Crude oil prices rose after a breakdown in diplomatic ties between Saudi Arabia and Iran raised concerns of supply restrictions, while gold jumped more than 1 percent as investors fled to the safe haven metal.
* U.S. stocks closed lower on Thursday, with the S&P 500 logging a marginal loss for the year.
* Economic data by the Institute for Supply Management is expected to show that the index of national factory activity rose to 49 in December from 48.6 in November. The data is due at 10:00 a.m. ET (1500 GMT).
* Apple was down 2 percent at $103.20. The iPhone maker's stock closed 2015 down more than 4 percent.
* Netflix was down 4.6 percent at $109.14 after Baird cut its rating on the stock to "neutral".
* Baxalta was up 8.9 percent at $42.50 as a buyout from UK drugmaker Shire loomed closer.
Futures snapshot at 6:48 a.m. ET:
* Dow e-minis were down 303 points, or 1.75 percent, with 44,203 contracts changing hands.
* S&P 500 e-minis were down 34.5 points, or 1.69 percent, with 236,049 contracts traded.
* Nasdaq 100 e-minis were down 88.25 points, or 1.92 percent, on volume of 45,395 contracts.
REUTERS