Ikpeazu Presents Budget Of Restoration To Abia House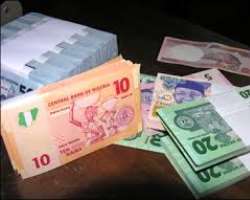 Abia State Governor, Dr.Okezie Ikpeazu, has presented an estimated budget outlay of N96.7b to the State House of Assembly for the 2016 fiscal year.
The budget tagged" Budget of Restoration Through Enterprise" outlay shows 22.8% decrease over the 2015 outlay of 105.8b.
Ikpeazu ,while presenting the budget,said the outcome is based on the resolve of the government to build on the gains of previous administrations.
According to him,capital expenditure is proposed to be 37.8b while recurrent expenditure shall be N58.9b.
The governor said that it is the resolve of the government to improve on the internally generated revenue efforts of the state by more than 30% of what was the actual accrual in 2015 with a view to making the economy more self-reliant.
Ikpeazu further explained that the estimated outlay is based on expected revenue from FAAC and VAT sources;complemented by the projections of the states expected cash flow from independent revenues; aids and grants,loans and other sources. The governor added that during the period,government proposes to ensure that funding gaps will be reduced through robust activities under public private partnership and donor agreements.
He said that the objectives of the 2016 budget include to optimize the human and natural resource potentials for achieving rapid and sustained economic growth as well as to translate economic growth into equitable social development that guarantees a dignified and meaningful existence for all citizens among others.
The governor said the government in 2016 will create the enabling environment that will energize industrial growth in the state,pointing out that government will be focussing on the development of an industrial sector that is guided by local research and development strategy which seeks to promote science and technology-based small and medium scale enterprises.
Ikpeazu promised to give a boost to the various sectors of the economy charged all those responsible for the implementation of the budget to ensure strict compliance to its provisions.
The Speaker of the House,Rt. Hon Martins Azubuike,in his remarks, assured that the House will expedite action towards the passage of the bill to sustain and consolidate foundations and achievements already gained.
Azubuike called on Abians to pay taxes and levies as the government of the day is irrevocably committed to using resources prudently to develop the state.