$2.1b arms deal: APC claims Fayose collected N1.4b from Dasuki for Ekiti elections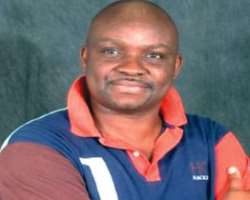 The All Progressive Congress APC, Ekiti Chapter, claims that Governor Ayodele Fayose benefited from the $2.1b arms contract money, which alleged misappropriation has landed the former National Security Adviser, Sambo Dasuki, in trouble.
According to APC chapter, the governor collected N1.4bn from Sambo Dasuki to fund his election campaign.
The Publicity Secretary of the Ekiti chapter of the party, Taiwo Olatunbosun, was quoted in a report in Pulse as alleging that Ayodele Fayose was also a recipient from the diverted funds for the procurement of arms, which the governor allegedly used to bribe INEC officials and military men to rig the election to his favour. The APC also said that the Ekiti State governor used part of the money to buy houses in Abuja.
"We are aware that Fayose at that time acquired a N750 million building in a choice area of Abuja from the proceeds of this fund.
"We are equally aware that Fayose submitted a bill of N30 billion to the then President Goodluck Jonathan as the amount he would require to unseat the then Governor Kayode Fayemi.
"A certain amount was approved for the project out of which the soldiers, who were used to rig the election, were paid as well as officials of the Independent National Electoral Commission (INEC) who released the soft copies of sensitive materials to Fayose to enable him have advantage over other candidates."
"It is curious that when a newspaper reported that N1.4billion was traced to a former minister to prosecute Ekiti and Osun elections, it was the same time the said minister sneaked out of the country to pursue further education while his accomplice, Governor Fayose, also travelled out about the same time.
"We are demanding that Fayose should come out and tell Ekiti people how much he received from the armsgate money and the property he acquired with the fund while we also call on the EFCC to beam its searchlight on Fayose to know how much is traceable to him and a governor in a neighbouring state who coordinated the disbursements of the funds with which the Ekiti election was rigged with the connivance of the military," he said.
Fayose is yet to make any public statement about these recent allegetions