Prophesy: Group threatens to report Father Mbaka to pope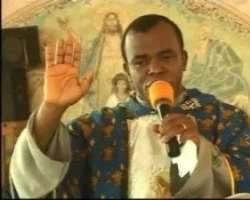 Irked by the spectre of prophecies by merchant priests to those in authority especially the avalanche coming from the Founder, Adoration Ministries Enugu, Rev. Father Ejike Mbaka, alleging assassination attempt on President Muhammadu Buhari by corrupt politicians, the human rights writers association of Nigeria has threatened to report him to Rome. The rights body had termed his prophecies as an act of "sensationalism and rumour peddling."
In a statement signed jointly by the National Coordinator, Comrade Emmanuel Onwubiko and the National Media Affairs Director, Miss Zainab Yusuf, the group frowned at the development and asked the Catholic Bishops Conference (CBCN) to sanction Rev. Father Mbaka within 21 days. They berated the Reverend Father for abandoning his sacred vocation and deviating into the mundane roadside career of politics, while hiding under the canopy of his priestly vocation.
The statement reads in part:
"Mbaka should cover his face in shame for displaying gross ignorance of the workings of the democratic and law based tenets and provisions of the constitution which deems suspects brought before the court of competent jurisdiction as totally innocent in the eye of the law until contrary determination is made by the Court in line with due process of the law.
"Is Fr Mbaka a judge who has passed presiding over cases of alleged graft involving any immediate past political office holder and adjudged them guilty of corrupt practices? Is Fr Mbaka unaware that as the Commander-in-Chief of the Nigerian Armed Forces that President Muhammadu Buhari is the most protected citizen in Nigeria now with hundreds of well armed and highly trained professional guards drawn from the Nigerian Military and the Secret Police headed by President Muhammadu Buhari's kinsman?
"Is Fr Mbaka unaware that Nigeria under President Muhammadu Buhari is waging a counter-terror war and that the armed Islamists have vowed in several media recordings to kill not just the Commander in chief but officials of government? This Mbaka's whitewash must be consigned to the dustbins without further delay," HURIWA said.