Nigerians Applaud Emergency Tricycle Doctor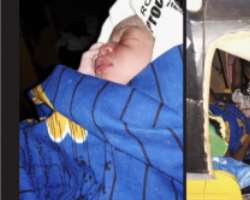 SAN FRANCISCO, January 03, (THEWILL) – Nigerians have continued to applaud the medical doctor who turned a tricycle to an emergency maternity ward in Enugu and successfully helped deliver a new-born baby on New Year's Day.
Mr. Fred Eteke, husband of the medical doctor, took to Facebook to break the news in a post that now has 218 comments, 270 likes and 627 shares,
He wrote, "Happening now…. God is wonderful…God is wonderful. On my way to see my mother-in-law with my family this evening, my sister-in-law whose family house is directly opposite the Local Government Area health centre (Iji Nike Cottage Hospital, near Enugu East Development Centre, Nkwo Nike) flagged us down (we didn't plan to stop by).
"Few minutes later, a young man in his late twenties ran in panting …. 'My wife is in labour in that health centre and there is nobody there.' In less than five minutes a mobile hospital was setup in the keke (tricycle) that brought in the woman.
To the glory of God, my wife, who is a doctor, delivered the woman of a bouncing baby boy at 6:30pm 01/01/2016. My sisters-in-law turned nurses instantly and the touchlight in my phone provided the lighting. Thank you Lord."
Reacting, Nigerians, who commented on the post, were full of thanks to God and the Eteke's, especially the wife, for their bravery and selflessness.
Others applauded the sisters-in-law turned 'assistant nurses' and the owner of the tricycle for his patience.
The mother of the baby was also praised and congratulated while others wondered why the clinic had no staff on duty to attend to the woman.
See Photos below:

NDDC SCREENSHOT 2

NDDC SCREENSHOT

KEKE DELIVERY

5135_10207958805984677_6016776623404341017_n

9175_10207958804464639_2190403626248476436_n

10309260_10207958805744671_8255269554500344715_n

10391829_10207958804104630_8080652086995332950_n

10400856_10207958804744646_6092207214242536271_n