Cynthia Morgan Curses Davido For Supporting Lilkesh In Headies Next Rated Category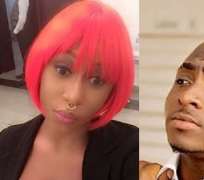 The New Year is just in its third day and Nigerian entertainers are already at the neck of each other in all sorts of verbal attack.
The latest was Cynthia Morgan who chose to kick start her year with a diss on Davido about #THEHEADIES2015.
There's a video in circulation of the German Juice crooner dissing and cursing out at Davido over the just ended 2015 HipHop World Awards. ??
Although, Davido who is still caught in his babymama mess is currently in Gambia, headlining the sold out 'Bring On 2016' concert at the Independence Stadium, Bakau and didn't attend the awards which held on January 1st, Cynthia won't let him be.
Cynthia Morgan won the award for 'Best Reggae/DanceHall' and went on snapchat to curse at Davido because he endorsed Lil Kesh as his favourite artiste on the same Next Rated category Cynthia Morgan was equally nominated for.
The female singer used a lot of 'F' Words on Davido just to express her anger.
Interestingly, some months ago Cynthia Morgan admitted that she had a crush on the 'AYE' and 'Skelewu' singer; and would kick it with him if he made a move.
She also dissed him on Twitter months before the headies after Davido publicly showed support for Lil Kesh.. Unusually, Davido didn't respond.
Meanwhile, her fans are of the opinion that Cynthia Morgan is pained about the fact that Davido isn't reciprocating the love she has for him.