Why we're this passionate about education: Aregbesola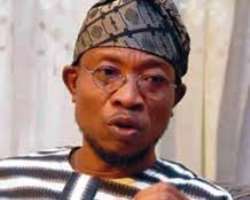 *Says it's only panacea to human survival
The Governor of Osun, Ogbeni Rauf Aregbesola, has said that the passion with which his administration pursues its goal in the education sector arises from the conviction that education is the fulcrum upon which life and living rest.
Governor Aregbesola stated this while receiving a 35 year old compilation of past Joint Admission and Matriculation Board (JAMB) questions and answers produced and presented to him by the leadership of the Coalition of All Progressives Supporters Group, at Government House, Osogbo.
The compendium contains past questions and answers of English and Mathematics from 1980 to 2015.
The Governor said only education can guarantee the improvement and betterment of human conditions.
According to him, a solid education guarantees perpetual and reliable succession and an assured future.
He said his government is passionate about education as there can't be improvement in the condition of the state if government fails to equip it's upcoming generation and develop them to explore nature to its extreme possibilities so that it won't be a threat to them.
He noted that in spite of the campaigns of calumny being orchestrated by certain individuals and group to discredit policies and programmes of his government, a group like the Coalition still believes and support the government.
Aregbesola said the gesture is highly impressive and will serve as an elixir for government to continue to do the utmost within its capacity to guarantee a better future for its youths.
"We are indeed passionate about education because there cannot be any improvement in our condition if we do not equip our upcoming generations.
"We are determined to develop and equip them to be able to explore nature to the extreme possibilities so that nature will no longer be a threat to them.
"Education is life itself; it guarantees improvement and betterment of human conditions.
"Without education there is no succession. Education guarantees trustworthy and reliable succession. And no one will want destruction for his succession. This is while education occupies uppermost place in our heart," Aregbesola said.
Earlier in his remark, the National Youth Leader of the Group, Comrade Mojeed Yaya, commended Governor Aregbesola's commitment to education in the state.
Comrade Yaya also lauded Governor Aregbesola for making education available, accessible and attractive to all children in the state, saying his giant strides in education had broken the gap between the poor and the rich.
He said Governor Aregbesola's quality education has made Osun the only state in Nigeria where children of school ages don't roam the streets hawking or begging for money during the school hours.
He described the educational policies of the state as one of the best among in the country, adding that most of the state's education programmes had been locally and nationally  adopted and replicated by the government at various levels.
He therefore urged the state government not to relent in its effort towards continued support of education as the only way to develop the society.
He said, "Our group found it worthy to support your administration for general development, uplift and transformation most importantly on education as we have seen that your passion for quality education could not be estimated.
"There is no doubt that the current administration in Osun has successfully laid a legacy and significant landmark in education as this good gesture has been adopted at local, national and international levels.
"Our Governor has made the state to be the only one in the country where every child is attracted and encouraged to western education through the provision of adequate educational materials to the pupils and the students in all public schools.
"Osun is also the only state where you cannot see any child begging for money on streets while he/she is supposed to be in the school or during the school hours.
"In fact, this government has made a significant impact on education and we are ready as a pro-masses group to support the current government in the state in all areas of the economy."