Tony Elumelu Foundation announces $3.7m seed money for 1,000 entrepreneurs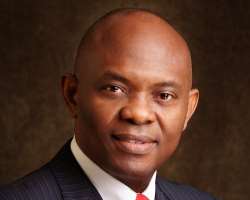 In continuation of its goal of enhancing the potentials African youths, the Tony Elumelu Enterpreneurship Programme says it has concluded plans to offer unconditional support to about 1,000 African entrepreneurs through a start-up businesses development initiative.
The move according to the Foundation , was part of the vision and efforts of the Chairman to deepen the Nigerian economy and make Africa economy grow more indigenous entrepreneurs.
In a statement by the Tony Elumelu Foundation, the successful applicants of the 2016 edition of the programme would be given N850, 000 ($3,761), as non-returnable seed capital on completion of the programme.
According to the statement, the applicants are also eligible for a further N850, 000 ($3,761) in either debt or equity just as it indicated tha the selected entrepreneurs in 2016 will join the 1,000 inaugural participants of Tony Elumelu Entrepreneurs from 51 countries in 2015 to bring the total number of beneficiaries of the handsom reward to 2,000.
It will be recalled that the inaugural participants were rewarded with 12 weeks of training on how to set up and manage‎ businesses with mentoring and financial support from Tony Elumelu Foundation.
Available report on the inaugural participants indicaded that more than 90 per cent of TEEP with existing businesses, are recording some remarkable improvement in the past one year.
This is in addition to accessing of additional external funding by a significant number of the entrepreneurs through the platform provided by the Foundation, with a flourishing alumni network providing personal linkages and business opportunities across the continent.
In his words, the Chairman of the TEEP, Tony Elumelu, said: 'I believe in empowerment that can change the face of Africa as we know it. African entrepreneurs are our future leaders and I am passionate about giving
them the opportunity to succeed.
'TEEP is a major, deliberate effort on my part, to institutionalise luck and provide seed capital funding, mentoring, business training, pan-African networking and springboard that our aspiring entrepreneurs needs to leap from.'
Also in his remarks, the Chief Executive Officer, CEO, of the Tony Elumelu Foundation, Parminder Vir, underscored the need for an even broader participation in the 2016 TEEP.
'We encourage women and men with business ideas from all sectors, from every region, city, town and village across Africa, to apply,' he said.
The TEEP was officially inaugurated in 2014 for youths from the 54 African countries with a funding pledge of N17 billion by the Foundation with the target of identifying and funding 10,000 African entrepreneurs over a 10-year period.