President Muhammadu Buhari's First Press Conference – Side Matters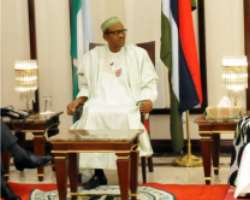 I am delighted that it happened at all. Press conferences are the way leaders answer to the people. The fourth estate is the voice of the people and by sitting down and taking questions from the people PMB demonstrates acceptance that he is the servant and not the master.
The setting was a little disappointing. The President should have been standing and answering questions instead of sitting. By sitting he gave the appearance of a king on his/her throne which the president is not. I doubt that the president's age (72) is the reason after all he looks young and has no weight problems. This is a minor point.
Some of the questions are pointed with strong follow-up questions. Kudos to those who "grilled" the president on some national issues. That is as it should be.
The president's answers are credible in some areas and amazingly ridiculous in other areas, such as on Mr. Kanu and Dasuki where he either does not understand the constitution or chose to forget what it says.
I am disappointed that he chose a handful of outlets to represent the media. I hope that in the future he should allow all the accredited Aso Rock Pressmen/women to attend. That way he would face both the ruly and unruly press. For those who do not behave they could be bared in the future for bad behavior.
The press from the snippets that I saw behaved nicely; neither overly patronizing nor intimidated. But then a "newspaper man" who can be intimidated is not a journalist to begin with.
I wish that this becomes a regular feature of PMB's administration. He will learn from practice that it actually helps his administration when he can answer question in the open arena with Nigerians watching. The give and take is a major part of democracy.
The president was rattled on occasions and was vividly angry with some questions. PMB should review some of Obama's press conference to learn how to handle "difficult" pressmen/women. He should do what coaches do on Monday after each game, watch the tapes! He should also rehearse, have his staff to ask him difficult questions which could come up so that he is not too surprised.
A press conference is called for after each major incident as a way of filing and incident report. One was needed when Shiites were butchered in Zaria; when young Biafran matters were slaughtered in Onitsha and PH; after BH massacres; after each foreign trip to report the reason for the trip and what was accomplished. After all he travelled on our behalf with our money to spend. Each occasion would have been an opportunity to express national sympathy for the victims. As it stands now, one is left with the impression that PMB does not care about the lives of Nigerians. He ought to show that all lives matter.
For the most part PMB was relaxed and as usual properly attired. During next conferences he should wear real Yoruba agbada, Ishiagu outfit and other Nigerian cultural costumes for he is now Nigeria.
After all said and done, this clerk feels that 2016 will be a better year for Nigeria than 2015. Whether it is, will depend for the most part, on PMB's behavior.
Happy New Year everybody.
Written by Benjamin Obiajulu Aduba.
Disclaimer:

"The views/contents expressed in this article are the sole responsibility of the author(s) and do not necessarily reflect those of The Nigerian Voice. The Nigerian Voice will not be responsible or liable for any inaccurate or incorrect statements contained in this article."