Chibok girls are alive: Boko Haram's contact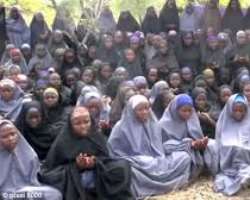 Contrary to perception,  there are strong indication the over 200 girls abducted by Boko Haram militants from Government Secondary School, Chibok  are still alive with some of them refusing to convert to Islam.
The girls who were kidnapped from their dormitory in April 2014 are believed to still remain in the custody of the terrorists, according Ahmed Salkida, journalist cum confidant of the leadership of Boko Haram.
Salkida was quoted in a report by The Cable on Friday,  asking Buhari to use state machinery to open up access to the militants rather than say he has no clue on the kidnapped girls whose abductions sparked off the #BringBackOurGirls campaign.
"Most of the Chibok girls, whether they are split into groups or not, are alive, multiple credible sources have told me. And if a deal to release them will weaken national security and endanger the entire country, then the federal government shouldn't make a deal," Salkida said.
He added:"I am confident that Chibok girls and other captives can return to their families if the government is half as strong-willed as some of the girls in captivity that have refused to be married out or give up their faith.
"The girls would have never backed out of any process, no matter how irritating it is. They would stay on and negotiate hard until they get a deal that will earn them their freedom and stop such abductions so that no one else can ever witness their woeful plight."

FILE - Bring Back Our Girls campaigners gather at a candlelight ceremony in Abuja marking the 500th day since the abduction of girls in Chibok, Nigeria.
Boko Haram leader, Abubakar Shekau — from whom nothing has been heard in the last 10 months — once released a video of the schoolgirls and said he had sold them off to marriage. All efforts to free the girls have failed.
In his first "media chat" with reporters since taking office in May, Buhari said if a "credible leader" of Boko Haram could be found, and the location of the girls could be established, his government is prepared to negotiate without preconditions for their return.
Previous attempts to negotiate were failed when it was found government officials were talking with the wrong people.
While hundreds of Boko Haram captives have been freed in recent months, none of the Chibok girls have been found to be among them.
There are fears that the girls are being used as sex slaves or suicide bombers, as there has been an increase in such attacks being carried out by young women in Nigeria.