ASH DISRUPTION CAUSES NISSAN TO SUSPEND SOME PRODUCTION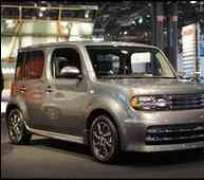 The three models are targeted at the North American market
Nissan has said that it will suspend production of three models in Japan on Wednesday because supply of parts has been disrupted by the volcanic ash.
The carmaker said it was unable to import air pressure sensors from the Irish Republic.
The sensors are used in Nissan's Cube, Murano and Rogue vehicles.
It will halt production of 2,000 vehicles, but has not yet decided whether a further suspension is needed on Thursday and beyond.
Production of the three models, which are targeted at the North American market, will be reduced at its Oppama plant in Yokosuka outside of Tokyo.
The move comes as the spread of volcanic ash from Iceland continues to disrupt European airspace.
Businesses affected
Meanwhile, other Asian businesses have also been hit by the disruption to flights.
Factories in China's Guangdong province have seen air shipments of clothes and jewellery delayed.
In South Korea, Samsung and LG said they were unable to air-freight more than 20% of their daily electronics exports.
And the Federation of Hong Kong Industries said hotels and restaurants in Hong Kong were facing shortages of French cheese, Belgian chocolates and Dutch fresh-cut flowers.