Ghana minister resigns for "unsatisfactory handling" of electricity crisis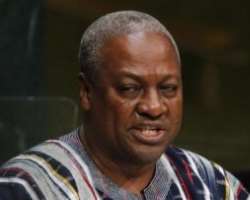 Ghana's power minister has resigned for unsatisfactory handling of an electricity crisis that caused years of frequent blackouts and hurt the West African country's economy, two government sources said.
Kwabena Donkor submitted his resignation on Thursday to President John Mahama after talks at the presidency a day earlier, a source close to the presidency told Reuters.
"The president was unhappy with his performance, particularly in handling the crisis. He has accepted the resignation and thanked him for his service," the source said.
The resignation comes a day after Donkor issued a statement saying the blackouts, known in Ghana as "dumsor", had been resolved.
Ghana, which exports cocoa, gold and oil, is under a three-year aid programme with the International Monetary Fund to fix its economy. The blackouts have stunted industrial growth and dented the government's popularity ahead of elections next year.
President Mahama, who created the Power Ministry in 2014, said in February he would fix the electricity crisis by the New Year, a challenge Donkor publicly accepted, saying he would resign if he failed to meet the deadline.
"The president wants to ensure that people entrusted with responsibility deliver and Donkor is no exception," another government source said, adding that Mahama would have dismissed the minister if he had not resigned.
In a nationwide speech on New Year's eve, Mahama said he would ensure that appointees uphold their promises to the citizenry.
"Those who fall short of that commitment have been, and will continue to be asked to tender their resignations and relieved of their responsibilities," he said.
Transport Minister Dzifa Attivor stepped down last week after her ministry overspent nearly $1 million to paint more than 100 buses in national colours and with portraits of the country's recent leaders.
(Reuters)