Naira Gains N1/$ At Bdc As Foreign Reserve Dips By 15.61%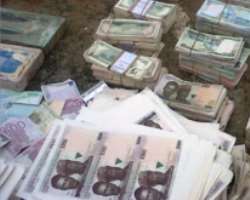 SAN FRANCISCO, January 01, (THEWILL) – At the last trading day for 2015 (Thursday), the naira slightly appreciated in value against the dollar by N1 or 0.38 percent at the Bureau De Change (BDC) segment of the foreign exchange (FX) market, THEWILL findings have shown.
After trading on the same day, naira closed at N264 against the greenback compared with N265 traded the previous day at the BDC segment.
However, the local currency yesterday weakened against the dollar by N0.48k or 0.24 percent at the inter-bank FX market. It closed at N199.35/$ as against N198.87/$ on Wednesday.
It also depreciated by N1 or 0.37 percent against the dollar at the parallel market as it closed N268/$ on Thursday from N267/$ the previous day.
The clearing rates of the Central Bank of Nigeria (CBN) remained stable at N197/$ as trading activities closed yesterday to mark the New Year holiday.
Meanwhile, Nigeria's foreign reserves declined by 15.61 percent year-on-year to $29.13 billion by December 29, from $34.52 billion a year ago, data from the CBN showed on Thursday.
The forex reserves of Africa's biggest economy and top crude exporter also dropped by 2.6 percent in one month from $29.91 billion a month earlier, Reuters reports.
The forex reserves fell to their lowest since July 1, 2015, when they stood at $29.07 billion because the central bank has been using the reserves to support the ailing naira currency in the wake of falling global oil prices.
Governor of CBN, Godwin Emefiele, had at the last Monetary Policy Committee meeting said the average naira exchange rate remained relatively stable at both the inter-bank and Bureau-de-Change (BDC) segments of the foreign exchange market in October.
The exchange rate at the interbank market opened at N197/$ and closed at N197/$, with a daily average of N196.99/$ between September 21 and October 30, 2015. At the BDC segment, the exchange rate opened at N223.50/$ and closed at N225/$, with a daily average of N224.46/$, representing a depreciation of N1.50k for the period.
The relative stability in the FX market is attributable to the sustained supply of FX from autonomous sources as well as the effects of various administrative measures taken by the bank. Gross official reserves increased from $29.85 billion at end-September 2015 to $30.31 billion on November 20, 2015.