No Recruitment Scam In Nscdc – Commandant-general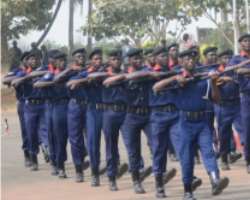 SAN FRANCISCO, December 31, (THEWILL) – The management of the Nigeria Security Civil Defence Corps, NSCDC, has expressed worries over the rumours peddled in some quarters that the Corps' top notch management staff are enmeshed in a recruitment scam bordering on slot sharing, which has created ill will in their midst.
While noting that the NSCDC at the moment does not have deputy commandants general, it wondered who then are the substantive DCGs said to be having rift with the Commandant-General?
The Corps' Commandant-General, Abdullahi Gana Muhammadu, who was surprised by the development, maintained that no rift exists within the Corps, stressing that, "We are all working together as one family, in the NSCDC irrespective of religion and tribe, we are one big happy family."
Gana further stated that there was no recruitment or replacement going on in the Service to have resulted in a rift between top echelons of the NSCDC, asserting that "it is all figment of imagination."
He however admitted that the Corps needs more personnel in order to meet up with the present demand, especially in the execution of the constitutional mandate and had requested for recruitment of more personnel come 2016.
"However, this request has been misconstrued by several persons and without waiting for it to come to fruition they choose the path of slander. Wrong signal was sent all along making people to believe that recruitment or whatever they term replacement is going on in the organisation," he said.
Gana consequently called on all meaningful applicants nationwide to disregard the rumours of recruitment in order not to fall prey to the gimmick of employment scammers.
He disclosed that the NSCDC has worked out modalities that the moment approval it is fully granted, advertisement will be placed in national dailies and in the electronic media to enable applicants know the criteria to be used.
Gana went on to stress that every online application, text messages, facebook, twitter and any other social media platform used to cunningly extort innocent applicants should be totally disregarded.
He reiterated that, having made this information known to the populace in general, any unsuspecting applicant who falls prey who failed to heed this warning should not blame the NSCDC.
Meanwhile, the Commandant General has frowned at a report in both the Guardian and Punch newspapers of December 30, 2015, on the purported release of an oil thief in Ogba, Lagos, by the NSCDC Lagos State Command.
Following the report, he directed the Lagos State Corps Commandant to thoroughly investigate the issue of the release of the said oil bunkerer and report back to him immediately.