Dangote Group assures Ibeju Lekki communities of improved welfare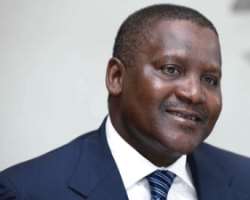 The Dangote Group has told the tribunal inquiring into the October 12 civil disturbances in the Lekki Free Trade Zone that the affected communities would get an improved welfare after his partners were able to assess their need by January 11, 2016.
Governor Akinwunmi Ambode had inaugurated a tribunal of enquiry to investigate the cause of the civil unrest at Lekki free trade zone.
The Group Head, Health, Safety, Environment and Community Affairs, Alhaji Abdulraman Zubairu noted that Dangote Group was already holding meetings with stakeholders of Ibeju Lekki, which was attended by four permanent secretaries, including Lagos State Ministry of Environment.
Zubairu said that 'the Community Development Plan (CDP) will come up with various ways of meeting the need of the people; it will come with entrepreneurial skill acquisition.
'We have proven to the Tribunal that we followed the due course of the law. We acted in line with the instruction of the EIA Act 86 of 1992. We have international partners like the African Development Bank (ADB) that will never partner without EIA taking its gue course,' Zubairu explained.
It would be recalled that unknown gun men attacked and shot dead, the Managing Director of Lekki Free Trade Zone, Alhaji Tajudeen Disu. Following this development, the leaders of Okunraiye community, one of the host communities of the Lekki Free Trade Zone in Ibeju Lekki, Lagos, then filed a fundamental rights enforcement suit before a Lagos High Court.
Surajudeen Salami, who deposed to the affidavit on behalf of the community, said  government forced them out of their homes as well as deprived them of their means of livelihoods - farming and fishing.
Salami recalled that on October 12,  the community leaders agreed to meet with Dangote Group to discuss the use of their land for a project by the company, especially the provision of job opportunities for youths of the community. The community were protesting the 'forceful acquisition'  of their land by the Lagos State government.