Davido Succumbs to Pressure, Returns Baby to Her Mother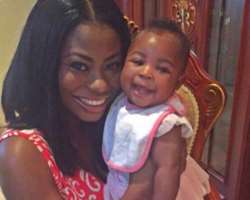 Respite seems to have come the way of Sophia Momodu, after her name has been publicly dashed by Davido's family after they were alleged to have forcefully taken her daughter away from her.
Sophia was accused of taking Cannabis after it was alleged that their daughter, Imade, after a medical checkup was found to have the stimulant on her system.
Davido and her family had made plans to take Imade out of the country until they were stopped by the Nigerian Immigration who acted on a tip off by Dele Momodu, who had alerted them earlier.
After the whole brouhaha, smiles have been restored on the face of Sophia as she has been given her baby back after five months.
According to Sophia, "I am so happy and grateful to the Nigerian authorities and my uncle for helping me get back my daughter after 5 months. No one no matter how powerful or influential has the right to separate a mother from her baby. I don't smoke, I have never smoked weed let alone smoke while breastfeeding. Cannabis was never found, it was a concocted lie just to steal away my baby
"I don't want your money, I don't want your car, I do not want to be your wife, I just want to my baby from your wicked sister. I told the David that my family might not be rich as his, but we are not poor and we don't tear down people. David accused me of not being able to bathe my baby, that's a wicked lie. He's only trying to gain sympathy online as I've always.
"I can't believe a father would be so foolish that he will abdicate his responsibilities and allow his wicked sis dictate his life. I want to state it clear, that David is the most useless man any woman out there can meet. I curse the day I met you kid. Has he bought the MacBook for that his follower after using him for publicity stunt? That's who he is. Attention seeking and lies."