Buhari Rules Out Further Devaluation Of Naira In First Presidential Media Chat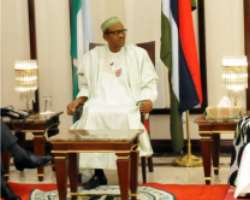 … Speaks On Unemployment, Economy, Security, Infrastructure, Others
BEVERLY HILLS, December 30, (THEWILL) – In his first televised presidential media chat Wednesday since he assumed office as President of Nigeria, Mr. Muhammadu Buhari has ruled out the further devaluation of the naira saying it is not in the interest of the nation's economy.
"I have to be convinced before accepting the devaluation of the naira. Which country's currency do we devalue the naira against?
"Devaluation is done between developed countries, in Nigeria; we are still importing ordinal toothpicks.
"We have banned the importation of toothpicks and goods we waste our foreign currency on,'' he said.
The president said his priorities are not "people wanting to bring rice and luxury goods which do not encourage economic growth".
He said the country needed to invest in capital projects, especially in power, railways, roads and fight terrorism to create employment for the populace.
"Our main priority is to secure this country so that investors will not be scared of investing in any of the sector,'' Buhari said.
Commenting on the challenges people are facing in accessing foreign exchange, he said foreign exchange would be made available to the productive sector of the economy and not for luxury items.
He stressed the need for Nigerians to re-order their priorities based on social realities.
On whether the federal government would divulge the names of those who returned funds they stole from the national treasury, President Buhari said their identities would not be revealed until their trial have been concluded in courts.
According to him, some people have returned stolen monies but their names will not be made public as they are assumed innocent until they are found guilty by the courts.
"Under whatever circumstance, we cannot prejudge what the courts will do. We will submit the documents but how the Ministry of Justice will react to it is what we have to develop the patience.
"Once we have gone to court, we should keep our mouth shut; we cannot comment on issues when they are still in court.
"Monies have been recovered; the courts have discovered some looted monies in terms of submissions made to them and documentations including bank statements, where the monies are lodged and how much.
"Those suspected of being corrupt are innocent until they are proved guilty by the court," he said.
On job creation, he said government would explore the potential in agriculture, solid minerals and teaching in solving the unemployment challenge confronting the country.
"We will make sure we get the machinery, fertilizer, and other inputs and ask people to go to the farm so that we do not import food.
"There are lots of solid minerals in commercial quantities in virtually all the states; there are companies that know about it and they are prepared to come.
"In terms of teachers, there is a teachers institute in Kaduna; and another one in Ibadan.
"We are trying to mop up the unemployed youths; do a crash programme in teaching; post them to teach in primary schools and junior secondary schools.
"So that the quality of education will start from the bottom; all these things will not be there over night but we have to start it,'' he said.
The President also said Government would continue with the railway project by the second quarter of 2016 to enhance economic development.
"By second quarter of 2016, we will take the Chinese contractors back to continue with the railway project,'' the president said.
On fuel subsidy, Buhari said the government was working hard to alleviate the suffering of Nigerians to make fuel available at affordable price.
He said government's priority was to get the refineries working at optimum level, adding that past administrations had failed to maintain them and the pumping stations.
"We will not be talking about subsidy by the end of first quarter next year. I hope that our refineries will be working, we cannot do it overnight but that is our priority now to get them working.
On the 2016 budget, Buhari said it would address unemployment in the country.
He said a lot had changed in the country, especially with the introduction of Treasury Single Account (TSA).
In addition, he said that the reforms done so far by his administration to merge 42 to 24 ministries would save some money to implement developmental projects.
"All these things will take time; we said during our campaign that we will diversify the economy to agriculture and solid minerals.
"We are hoping that these sectors will generate jobs from those sectors and our budget has shown that we will focus on those sectors.
"Also, we have focused on education and other key sectors of the economy.
"Some investors are ready to come and invest in those sectors but our problem is to secure this country first,'' the president said.
According to him, the government has taken cognisance of the countries that have indicated interest in investing in solid minerals.
He further said that his administration would develop the rail transport to enhance economic development.
He urged civil servants to be prepared to make sacrifices, adding that "you can legitimise the culture of change by being efficient in service."
Responding to a question on corrupt judges, Buhari said he was aware of such allegations but it takes two to tango.
"When tribunals were to come up, an appeal was made to the judiciary to be impartial because the judiciary has to work within time limit to listen to cases.
"It has reached the high heavens, the scream by Nigerians about corruption in the judiciary; I think this is something the government has to take up with the judiciary itself.
"But the judiciary is virtually a sitting duck, it is what the police take to them, it is what the lawyers present to them.
"So really to blame the judiciary, you are putting them in a very, very difficult position because they cannot work by themselves.
"They are massively contributions from other institutions for the judiciary to be corrupt.
"There has to be proof. You cannot just sit and say the judiciary is corrupt, it takes two to tango, somebody must be offering.''
On the issue that the Department of State Security (DSS) was blatantly disobeying court orders to release suspects in its custody, Buhari said the DSS could not afford to release them.
"Technically, if you see the type of atrocities those people committed against the country, if they jump bail….
"The former president just wrote to the CBN governor, give N40 billion to so and so and you give the N40 billion and he goes to see his doctor in London, while there are two million people in IDPs.
"Half of them do not even know their fathers… Which type of government do you want to have,'' the president asked.