The Tallest Statue Of Jesus In Africa To Be Unveiled In Imo State On 1st Jan. 2016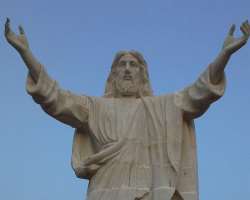 The tallest statue of Jesus Christ in Africa will be unveiled in Imo State on the 1st day of January 2016. The monolithic statue upon its unveiling will become the first of its kind in Africa and the 5th in the ranking of tall statues in Africa.
At a height of 28 ft. the statue will equally become THE TALLEST STATUE IN NIGERIA. The world's tallest statue of Jesus is Christ the King in Świebodzin, western Poland, with a height of 172 feet.
The construction of the statue was sponsored and donated to the Catholic Church by a Nigerian entrepreneur, Obinna Charles Onuoha, Founder/CEO of Premier Petroleum Limited who also doubles as Honorary Consul to the Democratic Republic of Congo in Lagos, Nigeria.
The 43 year old indigene of Abajah community of Imo State is a graduate of York St. Johns University (United Kingdom) and the Harvard Business School (OPM46) Cambridge, Massachusetts (USA). Mr. Obinna, a devout catholic, is happily married to Nkeiru Helen Onuoha and is blessed with four children.
More information the Jesus De Greatest statue:
NAME: JESUS DE GREATEST
SPONSOR: OBINNA CHARLES ONUOHA
LOCATION: ST. ALOYSIUS CATHOLIC CHURCH, ABAJAH, NWANGELE LOCAL GOVERNMENT AREA, IMO STATE, NIGERIA
TOTAL HEIGHT: 28 FT (8.53 M)
STATUE HEIGHT: 25 FT
BASE STAND HEIGHT: 3 FT
WINGSPAN: 18.37 FEET (5.6 M) (MEASUREMENT FROM FINGERTIP TO FINGERTIP)
TOTAL WEIGHT: 40 TONS
MATERIAL: MARBLE STONE
CONTRACTOR: NOVO CONTRACTORS INTERNATIONAL LIMITED
SCULPTOR: KFS SCULPTURE MANUFACTURER, ROC.
ANNOUNCED: 1ST JANUARY, 2014
COMMISSIONED: 1ST JANUARY, 2016
Additional information about the tallest statues in Africa by height include:
AFRICAN RENAISSANCE MONUMENT, DAKAR, SENEGAL - 161 FT. (49 M)
GREAT SPHINX OF GIZA, GIZA, EGYPT - 66 FT. (20.22 M)
RAMESSES II, ABU SIMBEL, EGYPT - 66 FT. (20 M)
NELSON MANDELA, UNION BUILDING, SOUTH AFRICA - 30 FT. (9 M)
JESUS DE GREATEST, ABAJAH, IMO STATE, NIGERIA - 28 FT. (8.53 M)