I have no regret working with Ekweremadu: Saraki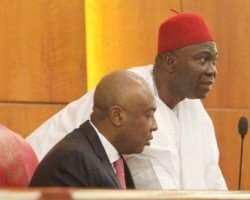 President of the Senate, Senator Bukola Saraki, has showered praises on Deputy Senate President of the Senate, Ike Ekweremadu, whom he described as an examplary Nigerian politician.
Saraki, who said he has no regret working with Ekweremadu, spoke at a civic reception at the country home of Senator Ekweremadu, in Mpu, Enugu State.  The reception was preceded by a special thanksgiving service, where Ekweremadu rededicated  to course of humanity.
The Enugu State-born senator credited his re-emergence as the Deputy Senate President as an act of God, while committing himself to service to Nigeria and mankind.
Speaking in an address at the occasion, Senator Saraki  described Senator Ekweremadu as a man, who every Nigerian politician should look forward to working with.
He said,  "For we politicians, it is always better to get close to know somebody because in our meetings in the 7th Senate, myself  and him were far apart, but in this current Senate, I am the first person to tell a few people that Senator Ekweremadu is a perfect gentleman. You are a perfect gentleman and I repeat that many times and you are a good example for we politicians.
"He is the type of Nigerians that we will want to continue to serve because he only sees things for the good of Nigeria. I am grateful to be working with you and I will continue to assure you that we will continue to work closely for the interest of this great country."
Earlier at the special thanksgiving service by his family, Ekweremadu recalled his journey back to the Senate, saying, "about two years ago, nobody would have believed that we will be here talking about Ike Ekweremadu being a Senator again, let alone being the Deputy President of the Senate. But, by the grace of God, I am today not only the Senator representing Enugu West, but also the Deputy President of the Senate.
"We went through very tumultuous primaries that almost divided our state along the line, but we thank God that today Enugu is united and peaceful.
"After the elections, PDP lost control of the National Assembly and many people thought we were finished, but we went into political engineering and I want to thank my colleagues for that long night. We decided that when we got to the chamber in the morning, we were going to perform wonders and when the time came for the inauguration of the Senate, I was re-elected Deputy President of the Senate. It was the will of God."