Insurgency: Lai Mohammed must explain latest bomb attacks – Fayose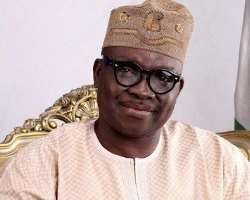 Ekiti State Governor, Mr Ayodele Fayose has described Sunday and Monday's Boko Haram attacks in Borno and Adamawa states as disheartening and an indictment on the All Progressives Congress, APC, Federal Government, saying that the Minister of Information and Culture, Lai Mohammed must explain to Nigerians how the same Boko Haram he said had been 'technically defeated' could carry out such daring and deadly attacks.
The governor, who commiserated with the government and people of Borno and Adamawa states, especially those who lost their loved ones, said; 'In other countries of the world, the government would have taken responsibility for deceiving and misleading the people and apologised.'
In a release issued by his Special Assistant on Public Communications and New Media, Lere Olayinka, Governor Fayose asked; 'If Boko Haram had indeed been technically defeated as Lai Mohammed made Nigerians to believe, what do we call the Sunday and Monday attacks in Maiduguri, Borno State capital and Madagali, Adamawa State?
'Should we say that the 'technically' defeated Boko Haram insurgents attacked Borno and Adamawa States, killing close to 100 Nigerians and injuring several others?
'Only Lai Mohammed who told Nigerians that Boko Haram had been technically defeated can tell us what happened and he must have to explain how 'technically defeated' insurgents could carry out such deadly attacks.'
Sponsored Advert:
VACANCY! VACANCY!! VACANCY!!!
Job Position: Chief Accountant at an Agro-Allied Conglomerate in Delta State
Click here for details