The Worst Of Boko Haram Is Over For Peace,' Says Gov, Shettima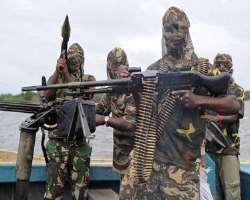 Governor Kashim Shettima of Borno state has said that the worst of Boko Haram insurgency, is over' for peace to reign in the state and the Northeast sub-region of the country, as 1.6 million displaced persons in camps could return to their communities by May next year.
The governor gave the assurances after visiting three hospitals in Maiduguri to "condole and sympathize" with victims of multiple blasts and village attacks that claimed 52 lives last Sunday.
The over 100 surviving victims, according to the Chief Medical Directors of State Specialists Hospital, Umaru Shehu Ultra-Modern Hospital and the University of Maiduguri Teaching Hospital (UMTH),Maiduguri; Drs. Laraba Bello, Salisu Kwaya Bura, and Abdulrahaman Tahir, are responding to various treatments for burns, gunshot wounds
and traumas.
Shettima however said that the attacks and killings, will not deter the state government and its citizenry, but continue to preach for peace, dialogue, tolerances and understanding among the various ethnic and religious groups.
He declared that the days of the Boko Haram insurgents, are numbered,as they are already "technically defeated," according to PresidentMuhammadu Buhari last week.
He said even though 'pains and anguish' have already been inflicted on the people, but their spirits remain high.He however noted: "We will urge our people to be extra vigilant and to report all suspicious movements to the nearest military formations.
Our head is bloody but remains unbowed."
While re-iterating his assurances to the people Shettima said: "We also believe that the worst is over and by God's will, we shall strive to give hope to the hopeless; and a cause of joy to the
down trodden."