How Much Is Your 1 Hour Worth Today?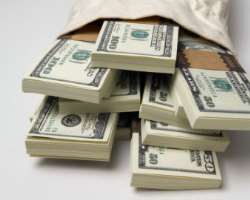 Recently, I volunteered to join a group of people who were to cook two meals a day for about 300 people, over a 6-day period. On one of those days, we were to cook almost 1 Bag (100 - 120kg) of beans (not coffee beans) and had just a few hours to pick out the chaff in the beans before cooking. So we set to work, each person picking as fast as she could manage.
A few hours into the task, it became clear that if we didn't get the beans on fire within the next few minutes, we won't be able to meet up with the agreed time for delivering the meals. Just at that moment, our Head Caterer came up to share with us, an innovative way to get most of the chaff out. Thereafter, we only needed to focus on picking out stones (if present) and then leave the tiny bits of the chaff to float to the surface of the water when we rinse the beans before cooking. In a short time afterwards, we finished preparing the beans, cooked it and we're able to deliver on schedule.
This experience got me thinking about the value of my time. I started out recalling all those times when I laboured for several minutes, bent over a mere tray of beans which could've been ready for cooking in a few minutes. I would devote so much time to looking through the beans carefully, picking out the minutest appearance of chaff, stones (I still wonder how they always manage to show up), broken bits of beans, etc only to end up with backache at the end of the process.
Thinking about it now, was that even necessary? Did I devote so much time to picking out every thing that didn't represent a whole bean pod because I didn't have anything else to do with my time? Would it have mattered that I put all the broken pieces of the beans among the chaff? In eating my beans, would I have been able to differentiate between the whole beans and the halves?
OK, this article is not a lecture on what to pick out or not when preparing to cook a bean meal. Rather, I invite you to take a closer look at how you spend your time. Does that article add to your knowledge bank in any way? Will you miss out on important info, if you do not visit that blog? Which will save you more time: to take a bike along that road or to stroll along (to save money) and then have to stop every 5 minutes to chat with people? In the time it will take to read through 200 status updates on your phone, can you do a write-up that others will read instead?
At the end of the day, the richest and the poorest man on earth each have access to only 24 hours every day. The difference lies in how they engage their time. Soon, the luxuries for some people will become mere necessities for others. A few people will have enough money to buy the time of others. Is that not what your employer is basically doing by offering you a job?
Take time to examine your schedule more closely. What really matters to you? How much time should you spend on those things that matter to you? Using the same examples above, please stroll along your street, if socialising is very important to you. You could encounter a business opportunity by walking into a neighbour who regularly strolls at about that time. And, read through every single status update of your 200 BBM contacts, if same is important to you.
It might be your goldmine of information about what each person might be going through and how you might provide a business solution to the person. As you do, ask yourself (and maybe a few people around you) how you can make money from the time you spend engaging in those activities. Then, whatever you choose to do with your time would've been worth it.
What is the value of 1-hour of your time today? Now, how can you increase this value starting today?
Thank you for devoting the few minutes you just did to reading this article. It took me 1 hour and 11 minutes to write it.
Olubunmi Samuel-Adeyemi is LIMER™ Personal Finance Coach. She tweets from @itsOlubunmi and can be reached on [email protected]
Disclaimer:

"The views/contents expressed in this article are the sole responsibility of the author(s) and do not necessarily reflect those of The Nigerian Voice. The Nigerian Voice will not be responsible or liable for any inaccurate or incorrect statements contained in this article."