Actress, Bimbo Peters Gets Engaged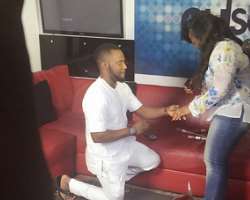 Nollywood actress, Bimbo Peters, has just ended the year 2015 in a good note as she recently got proposed to by her long time boyfriend at Pulseng office on the 28th, December, 2015.
The proposal was well planned as the big question was pop up to her "will you marry me" and the tears of joy rolled down as Bimbo says 'yes."
Bimbo while making the announcement disclosed that she and her man have been together since 2009 as he has continued to show her what true love is all about.
In her word, "Yesterday was the best day of my life. I had the craziest proposal planned by my baby and best friend. My story with this man is a funny one. Since 2009 you have been ruling my world and till today you still have the same effect you had on me the very first time i set my eyes on you.
"I cannot wait to wake up next to you for the rest of my life. Wake up to that sexy face and body (I think I love that idea the most). All that manliness for me. I love you so much Adeyemi, my sugar daddy (he hates being called that), teminikan, yemkem, my king. Thank you for making me a happy woman. Can't wait to annoy you for the rest of your life. Eternally Yours, Your wife to be Bimbo Peters."