Edo NLC hails Oshiomhole over payment of Dec salary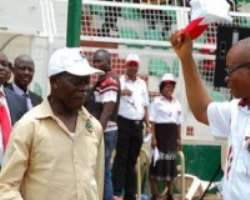 The governor of Edo State, Adams Oshiomole is truly standing by his words as he makes true his promise not to owe workers salary. With this act comes accolades from the Nigeria Labour Congress, NLC, in Edo State which commended him for the prompt payment of workers' salaries, describing the state as lucky, unlike some other states in the country.
This observations were made by the Chairman of NLC in the state, Emmanuel Ademokun, in a statement, describing Oshiomole's seven years reign as a huge success, pointing out that the governor's efforts in blocking leakages in the ministries has yielded fruit.
He therefore, appealed to governors of other states to emulate Governor Oshiomole in the payment of salaries, saying, "It is very sad today that some of our colleagues went home for Christmas and New Year without getting their November and December salaries.
"That is why we sincerely thank our governor for his unflinching commitment in the payment of worker's salaries up to date. Our governor has clearly shown that he is a man of distinction who sees workers as assets and not liabilities."
-Emmanuel Ikechukwu