Why I Support Dakuku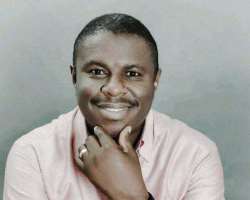 Before the 2015 General Elections in Rivers State, I was never close to Dakuku Adol Peterside, PhD. I only knew him as a one time Commissioner of Works in Rivers State, during Rt. Hon. Chibuike Rotimi Amaechi's first tenure. I am also aware that Rivers State recorded a bloom in infrastructural development during this era. The quality dualisation of Stadium Road, Rumuola Road, Choba Road, and the construction of other major roads in Rivers State took place under his supervision. Today, these roads are still in a very good condition.
My first venture into active politics was during the second term re-election bid of Chibuike Rotimi Amaechi, and the first term election project of former President Goodluck Ebele Jonathan. I joined forces with some resilient young minds in the Action Congress of Nigeria (ACN) to oppose the monster called PDP. While ACN was working assiduously in the centre and state to take over power, I was busy mobilising support in my LGA and Ward, to ground the PDP.
The first casualty of our vigorous political struggle was Bright Amaewhule, the current CTC Chairman of Obio/Akpor LGA, and the then councillorship candidate of the PDP. Bright who is also a nephew to Chief Barrister Nyesom Wike, has enjoyed cheap and stress free political growth due to his blood relationship with the present Governor. He does not posses a strong personality, sharp wits, vocal oratory, political sagacity, literary prowess, or any other characteristics that guarantees political success. His case has been that of a biological-political favourite. Wike made him, and he is still making him, irrespective of the fact that even his fellow PDP members are all against this type of outdated family politics.
We fought Bright to a standstill because the political structure of Ward 12 Obio/Akpor, was about to be desecrated on the pedestal of sentiments. We campaigned against the PDP with such momentum that I and a few others were summoned to the official residence of the then Chief of Staff to Amaechi, Nyesom Wike. What was our anger? Very simple. It wasn't the turn of Bright's Mgbu (area) - Omoi, to produce a Councillor; the slot was for Mgbuadu and not for Omoi. Does Wike really care about that? Certainly not!
I arrived at the official residence of the Chief of Staff in anticipation of so many things, and I met for the first time, the man called Nyesom Ezebunwo Wike. I sat down quietly listening and watching, while he displayed his political trickery. Before my very eyes, Wike gave Bright two knocks on his head for not being able to pacify us, saying that we had a valid point of argument and a case against Bright's candidacy, but that he wanted us to compromise. He wanted to deal.
After practically begging us to deliver Bright, and promising to integrate us into Amaechi's government, plus financial favours, he made a sharp U-turn and told us that the election was already over, and that he was only attending to us for mere formality. Are you serious? I didn't speak a word throughout that meeting, because there was no need at all; the man was too hyper and less sensitive for my liking. The meeting lasted for only 10 minutes. I walked out of his house feeling abused.
Now, you might be wondering why I have taken so much time trying to explain the origin of my involvement in Rivers Politics vis a vis the basis for my unflinching support for Dakuku. The reason is very simple; just to show you the unpredictable nature of the man who now sits on the governorship chair of Rivers State, and his attitude towards agreements and conventions.
Enter Dakuku's candidacy: the rotation of power between Riverian and Upland is an unwritten agreement in the political chambers of Rivers State. Our fore fathers believed that as a multi-ethnic State, the only way to ensure justice, equity, and unity, is by giving every side of the ethnic divide a chance to produce political leaders. Amaechi being a man of benevolence and equity, reiterated this line of commitment when he declared that it will be highly unfair to handover power to another Ikwerre man. You know the rest of the story.
Apart from the issue of rotation, Dakuku appears to be a better man for the job. He is calm, articulate, God fearing and rugged. Some have argued that Wike pays more attention to the financial well-being of his boys, than Dakuku, hence the followership he receives. I cannot argue for or against this position, because I am yet to receive money or closely notice any deficiency in this area on Dakuku's part.
As an Ikwerre man, it would have been very natural for me to work with Wike, who is my brother from the same Kingdom (Apara), but I chose to support Dakuku because it is only fair to do so. I am a man of justice and I fear God. I also support Dakuku, because I believe that he'll perform creditably well. I believe that Rivers State will prosper in his hands. The structures which he put on ground during his reign as Commissioner for Works, stand tall as witnesses to my noble attestation.
The people of Ikwerre ethnic nationality are not greedy people, otherwise, a man like George Sekibo, whose entire LGA population cannot match the number of registered voters in my community, couldn't have ever emerged as the Senator Representing Rivers East Senatorial District.
Solomon Okocha, writes from Port Harcourt, Rivers State.
Disclaimer:

"The views/contents expressed in this article are the sole responsibility of the author(s) and do not necessarily reflect those of The Nigerian Voice. The Nigerian Voice will not be responsible or liable for any inaccurate or incorrect statements contained in this article."