Condolences To Maiduguri Bomb Victims & Osun State Minority Leader, Oladejo Makinde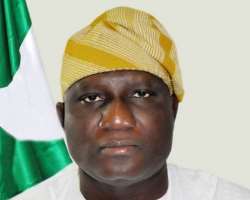 I extend my heartfelt condolences to the government of Borno State and particularly all the families who lost their loved ones to the heinous and satanic attack on the Mosque in Maiduguri, earlier today.
It is unfortunate that even at a season like this men of the underworld would still look for soft targets to perpetuate their evil acts, especially when such attacks took place at worship centres. Terrorism in all its forms and manifestation is a despicable and unjustifiable threat to our society.
We must however appreciate the unflinching determination and efforts of the government to continue to take every step to put an end to the reprehensible acts of all groups and persons involved in acts of terrorism.
I call on all Nigerians not to despair in this moment of great trial in our nation's history but to remain united to confront the common enemy. I can assure our people that no terrorist act against fellow citizens will destroy the Nigerian spirit to remain positive, resolute and united in the quest for lasting peace and security in our country.
I therefore urge all our security operatives to be more circumspect in intelligence gathering and management. Moreover our relief agencies and medical personnel should show proactiveness in deploying every possible effort to assist the injured.
I am also devastated at the incident of gas explosion that rocked Chicason gas plant in Nnewi, one of the commercial hubs in Anambra State. May God grant the families of those who lost their lives the fortitude to bear the irreparable loss.
Similarly, I commiserate with the Osun State House of Assembly over the death of its Minority Leader and Chairman, House Committee on Regional Integration and Special Duties in the State Assembly, Hon Samson Oladejo Makinde representing Ife Central Constituency.
The late Oladejo who was just 48 years has been described as unassuming, generous and cultured politician, who contributed immensely to the development of his people, his death was a big loss to Osun State and the State Assembly. I condole with his aged mother, wife and children. May his soul rest in perfect peace.
Hon. LASUN YUSSUFF
Deputy Speaker of the House or Representatives.