Ekweremadu Is The Best Man To Work With – Saraki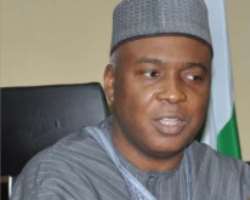 BEVERLY HILLS, December 29, (THEWILL) – President of the Senate, Dr Bukola Saraki has hailed his deputy, Chief Ike Ekweremadu, as a type of leader that Nigerians would want to continue to serve them, describing him as a man every Nigerian politician should look forward to working with.
Speaking at a civic reception in Mpu, the country home of Ekweremadu, shortly after a special thanksgiving service where he rededicated himself to the service of Nigeria and mankind, Saraki stressed that his deputy is a man who has the interest of Nigeria at heart.
He explained that although he had known Ekweremadu in the 7th Senate, he was not too close to him as to get acquainted with him the way he now knows him in the 8th Senate.
His words, "For we politicians, it is always better for us to get close to know somebody because in our meets in the 7th Senate, me and him were far apart, but in this current Senate, I am the first person to tell a few people that Senator Ekweremadu is a perfect gentleman. You are a perfect gentleman and I repeat that many times and you are a good example for us politicians.
"He is the type of Nigerian that we will want to continue to serve because he only sees things for the good of Nigeria. I am grateful enough to be working with you and I will continue to assure you that we will continue to work closely for the interest of this great country."
Earlier, at the special thanksgiving service by his family held in the same area, Ekweremadu, while recalling his journey back to the Senate, described his re-emergence as senator and deputy Senate president as an act of God.
He specifically thanked God for sparing his life during the assassination attempt on him, even as he assured that he remained unperturbed.
"About two years ago, nobody would have believed that we will be here talking about Ike Ekweremadu being a Senator again, let alone being the deputy president of the Senate. But by the grace of God, I am today not only the senator representing Enugu West, but also the deputy president of the Senate," he stated.