When Do You Need To Undergo PCL Repair Surgery?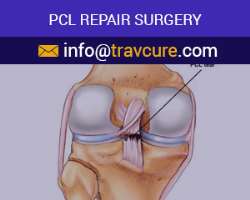 PCL Repair Surgery in India
A Posterior cruciate ligament (PCL) surgery includes repair of a ligament existing in the knee. Typically, the damaged ligament fibers are connected with each other. For severely damaged ligaments, additional tendonsand other tissue are used to complete the reconstruct process.
PCL is known to be one of 4 ligaments present in the knee that make the knee joint stable. The PCL is the tendon that prevents the tibia (shin bone) from slippingfarawaytowards the back. PCL helps in maintaining the tibia's position under the femur (thigh bone). Treatment of PCL injuries is debatable, unlike treatment of an ACL injury, there is little confusion as how best to proceed for a PCL injury. Preliminary treatment for the pain and swelling involves use of crutches, ice packs, and leg elevation. Surgical repair and treatment of the PCL injury is debatable, and usually only suggested for grade III PCL injuries. Surgical PCL Repair is challenging because of the location of the PCL in the knee.
Reasons of PCL Injuries
PCL injuries are often due to a shock to the knee joint which can be due to falling, or hitting against something while it's twisted. There can be various reasons for a PCL injury especially for sports persons.
Signs of PCL Injury
People having a PCL don't feel or hear a "popping" sensation in the knee joint. A more common symptom with ACL injury patients. With PCL injury, people may usually think they just have a minor knee injury. They tendto perform their usual activities on a routine. However, possible symptoms:
There could be swelling in the knee joint that can be initially mild but may increase with time.
Knee pain in PCL injury can differ from person to person.
Patients can either feel numbness or a shaky sensation in the knee joint.
Patients can even face trouble while walking or bearing weight on the knee.
Treating PCL Injuries
Arthroscopic procedures are less disturbingproceduresas they are easily performed, are less time-consuming and involve a short stay at the hospital. With just 2 minimal incisionsa PCL injury can be rebuild and repaired. PCL Repair Surgery can lead to developed knee firmness and minimizes the chances of complications in daily routine activities. .
A PCL Repair Surgery can be performed using 2 methods - either through Anterolateral componenti.e. a single bundle or Both anterolateral and posteromedial componenti.e. double bundle graft.
In the Single bundle procedure a single tunnel for both the bundles of PCL is required, whereas in double bundle procedure two tunnels are necessary separately for each bundle. Double bundle procedure is technically difficult compared to single bundle ones.
Risks associated with PCL Repair Surgery
Risks are associated with any kind of surgery, but with PCL they are rare.
Incision Infections
Blood clots inside the knee
Instability in the knee
Continuous pain, coldness, or rigidity in the knee
Another surgery is required in the future
Taking Care at Home After PCL Surgery
Recoveryafter a PCL Repair Surgery plays a major role to help support the knee while performing the routine activities. You can start Physiotherapy sessions 1 to 4 weeks post-surgery. After a PCL surgery it will take around 6-8weeks to get healed. But for complete recovery it usually requires a time period of 6 to 12 months.
PCL Repair Surgery In India
Hospitals in India have a pool of surgeons who specialize in various types of orthopedic surgery. These hospitals are well equipped for the diagnosis, prevention, and treatment of other disorders of the bone system. Patients suffering from various orthopedic problems such as Adult joint rebuilding and revision,Sports injuries, Ankle and foot injuries, etc. are treated with efficiently with utmost care. Indian hospitals are ranked at par with those in the western world. Travcure Medical Tourism Consultants is the first choice for the thousands of international patients who come for PCL Repair surgery in India every year.Travcure provides the best medical and surgical treatments at the affordable cost.
For Best Expert Consultation and Best Treatment Option, reach Travcure Medical Tourism Consultant at
WEBSITE: travcure.com
EMAIL ID: [email protected]
PHONE NO.: +91-8600044116