Politics: I'm not plotting against Buhari, says Atiku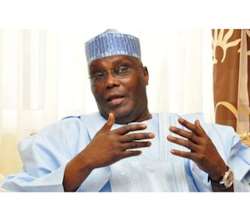 Former Vice-President Atiku Abubakar has asked his political opponents to desist from fabricating lies in a bid to cause a disagreement between him and President Muhammadu Buhari.
Atiku, who alleged that his political enemies were sponsoring propaganda to cause distrust, said he was not plotting against the President.
He said this in a statement issued by his Media Adviser, Paul Ibe, on Sunday.
He dismissed an allegation that he had been hosting political meetings at Burj Al-Arab, Dubai, to frustrate Buhari.
Atiku said, 'This is the work of rumour-mongers planning to cause distrust and distraction in Buhari's government. They do not mean well for the APC administration. With the challenges of providing good governance for the country and creating job opportunities for Nigerians, including reducing the impact of poverty, President Buhari needs all the goodwill and support in these endeavours.'
Sponsored Advert:
VACANCY! VACANCY!! VACANCY!!!
Job Position: Chief Accountant at an Agro-Allied Conglomerate in Delta State
Click here for details
According to the former vice-president, the success of Buhari's administration has been his preoccupation.
He said that contrary to the rumours being peddled by his political opponents, he was currently in Dubai with his family for physiotherapy on his injured knee.
He said it was unfortunate that at a time that energy should be channelled into helping the President actualise his change agenda, some were busy spreading deliberate falsehood to cause distraction.
He warned that his private affairs should not be politicised by anybody to achieve sinister objectives.
Atiku said he was entitled to enjoy his private life, including the right to attend to his health without being harassed and lied against by political opponents.
The statement read, 'This is yet another plot by the enemies of our country and democracy to divide, divert attention and distract the APC in its avowed commitment to secure the country, provide jobs for the unemployed youths, build the needed critical infrastructure, enthrone a regime of probity and accountability and pull the country out of the economic woods it has been consigned to by locust years of mismanagement.
'Whether at home or abroad, the Turaki is preoccupied with his unassailable support to President Buhari and his administration, especially at this critical time, as he works assiduously to turn the fortunes of our dear country around and make Nigeria work for the greater good of all.
'Rumour-mongers are toxic to the progress of the APC and the country at large. The campaigns are gone, and therefore, all energies should be constructively devoted to the success of the Buhari administration.' - Punch.