Two killed, many injured as nine-man robbery gang attack bank in Ekiti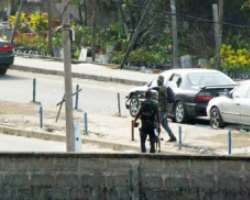 •One gang member killed
There was panic in Okemesi on Christmas Eve in Ekiti West Local Government Area of Ekiti State when a nine-man armed robbery gang attacked an old generation bank. Two persons were killed in the process.
The hoodlums also carted away millions of naira and injured scores of residents in an orgy of shooting that lasted almost an hour.
The two persons shot dead included a private security guard said to be in his late 30s. His name was given as Matthew and a carpenter, Ayo Alawode (53).
One of the robbers was also reportedly shot dead by an unidentified member of the community, which angered the robbers who unleashed a shooting spree.
The robbery attack soured Christmas celebrations as many residents couldn't go to the church on Friday to mark the festival while the community was calm on yesterday.
One of the robbers reportedly disguised on arrival as a resident and joined others at a newsstand close to the bank to observe the scene before other members of the gang arrived in a Toyota Sienna space bus.
The gang announced their arrival with several gunshots to the air at about 5.30 pm and blew off the bank security door with explosives which made them to gain access into the baking hall.
An eyewitness told reporters in Ado Ekiti, the state capital, that bank customers who queued up at the Automated Teller Machine (ATM) gallery were marched into the banking hall by four of the robbers while the remaining gang members stood guard outside.
Activities at the town's main market which were already in full swing for last-minute Christmas purchases were disrupted as buyers and sellers scampered to safety as gunshots rent the air.
When the robbers learnt that one of them had been killed, they continued shooting anyone in sight and it was at this point that Alawode who owned a shop located outside the bank was hit in the head. He died instantly.
The security guard was said to have died while being taken to the hospital for medical attention.
At least ten persons who were wounded in the orgy of the shooting unleashed by the robbers have been rushed to a teaching hospital in a nearby state.
The source said: "Immediately those in the bank hall realized that one of them had been shot, they thought it was done by a policeman and they quickly ran out.
"When they got outside and knew that the police were yet to arrive, they immediately shot the carpenter and the security guard. This provided the opportunity for the customers held hostage to escape.
"We made efforts to call policemen at Ijero Ekiti, but they didn't come in time, same to soldiers at Itawure Junction. Though, they later came after the robbers had escaped through Ijero road," he said.
Ekiti police command spokesman, Alberto Adeyemi, confirmed the killing of the two persons during the robbery operation. He added that the command has launched investigation and expressed confidence that the culprits will be arrested "very soon." Nation