I Used My Money To Rebuild Church Destroyed In Kano Unrest – Emir Sanusi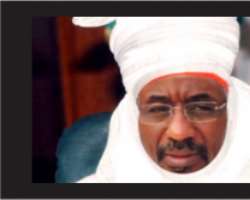 SAN FRANCISCO, December 26, (THEWILL) – The Emir of Kano, Alhaji Muhammadu Sanusi II, yesterday revealed how he used his personal resources to rebuild a church destroyed during a religious unrest at Rogo local government area of Kano.
Addressing a delegation of religious leaders, the former CBN governor said: "I renovated the said church to help avoid a situation where a Christian believer might feel offended and his religion disrespected."
He made this known during a one-day Inter-Religious and Community Conference organised by Kano State government with the theme: "Towards Strengthening Interfaith and Community Relations for Harmony, Peace and Sustainable Development, held at Coronation Hall, Government House in Kano.
The traditional ruler went on to enjoin adherents of the two major religions in the country to respect each other's faith to avoid future religious disharmony in the state and the country at large.
Also speaking, the chief host of the event and Kano State governor, Dr. Abdullahi Umar Ganduje disclosed that research has shown that most of the religious conflicts experienced in the country were in one way or the other triggered by elites who are bent on dividing following of the different religions.
He observed that both the Islamic and Christian faiths enjoin followers to live in peace and preach peace, stressing that neither of the scriptures of the two religions advocate violence.
While expressing optimism that the people of Nigeria will embrace each other irrespective of religious conviction, Ganduje revealed that his administration decided to convene the conference considering the fact that Kano is adjudged to be truly Nigeria's state with cosmopolitan nature.
He then charged the participants, which included the state CAN chairman, Ransome Bello as well as other Christians and Muslims clerics, to put what they have learnt from the conference into practice.