Seriake Dickson Represents A True Izon Son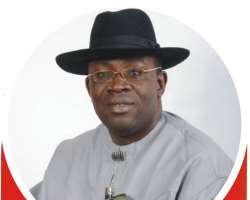 Chrismas has come and gone, and Imwant to use this opportunity to thank all true IZON sons and daughters who have stood fast solidly on the side of history with this great leader from this part of the country called Bayelsans, 'the glory of all lands,.
THE MAN DICKSON HAS THE BEST OF QUALITIES
1. Love of his people - Yes, for those who know
him, he takes very seriously anything Bayelsa
and Niger a Delta. He is always there for his
People day and night and solves there
Problems. In fact, if you meet with Dickson on
one, you see in him humility, kindness and an
embodiment of true-Ijawness.
2. Wisdom - governor Dickson has great
Wisdom like the biblical Solomon to tackle problems of the state.
That is why in this period of economic
Melt down where majority of states and even
Federal government could not afford regular
Payments of workers, Dickson tries to pay.
3. Bravery - you cannot intimidate Dickson for
standing on the Side of history. No matter how
him, he always stood by the truth and on the
side of the oppressed even though that has
sometimes led to the enemies of progress
Calling him names. Dickson will always do
What is good for Bayelsans. Most times,
People have abused him because he does not
Dance to the tune of some very greedy and
selfish Bayelsans that want him to do their
Biden just to satisfy their parochial interests.
4. Prudence - Why Bayelsa now ranks among
the top 3 states when it comes to proper
management of state resources is because
Of his financial discipline and prudence. If
not of his sterling qualities, Bayelsa that was
one of the most indebted states during the
Previous administration has now become one
of the least indebted states is note-worthy.
5. Vision - When it comes to visionary leader-
ship, Dickson is number one. If you don't
Know, let me tell you that Dickson has put
on ground for the first time institutions that
will put Bayelsa into the drive for industrial
and skills development of Bayelsans to
lunch us into a more glorious age. In the
Following areas - Agriculture, educational,
Industrial, Security, Tourism, Banking etc,
Dickson has already made great change that in second term which God has already ordained him to complete, Bayelsa will rank among the topmost states in all aspects of the economy,
We must thank him for bringing this mindset of
Frivolous expenditures which almost destroyed the economy of the state.
All those who love Bayelsa state must stand on the side of history to bring back the lost glory which the countryman governor has brought back.
I wish him and the restoration family happy new year in advance.
Dave Asei
26/12/2015