Dagrin 'Alive and Improving'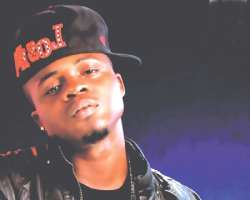 Contrary to rumours making the rounds that rapper Dagrin who has been under admission at LUTH, following a horrendous car crash that left him unconscious since early Wednesday, has passed, we are pleased to inform you that the young man is very much alive, responding to treatment and surrounded by his close friends and family members.
Our reporter, who has spoken with his manager, as well as LUTH staff, says the rapper is 'in a more stable state' and already out of Intensive Care, after undergoing another successful operation on Friday.
A top industry source, who was allowed to see him on Friday, also confirmed there's 'no cause for alarm'.
It is believed that he was transfered from ICU to the private wing of the teaching hospital, Saturday. His minders were trying to make deposit payment for the transfer, when NET visited eary Saturday.
Dagrin was involved in an accident in the early hours of Wednesday, in Mushin, Lagos, on his way home.
He was initially rushed to a nearby hospital Tai Solarin Hospital, before he was transferred to LUTH.
There has been an outpour of emotions, since the news broke about his accident and situation – with hundreds of thousands praying ceaselessly for his quick recovery.
'I'm with Dagrin now, and he's getting better', his label mate DJ Zeez told friends through a Blackberry broadcast message, late Saturday. 'Please for God's sake, stop the rumours. Dagrin is alive and well' he stated.
Story by Alayande Dayo