Petrol to sell for N85 per litre from January 1 as FG scraps subsidy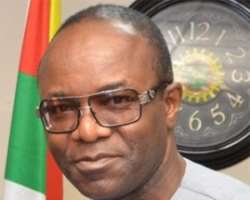 Petrol will sell at N85 per litre from January 1, 2016, the Minister of State for Petroleum, Dr. Ibe Kachikwu, has said.
Kachikwu, who said that the new pricing regime will be announced by the Nigerian National Petroleum Corporation ahead of the New Year day,  said  the new pump price was arrived via PPPRA template which he signed off on Wednesday.
According to the minister, the first reflection of the price modulation  will kick off fully in the petroleum sector by January 2016.
He noted that following analyses and research, government realized the country could fluctuate fuel price in accordance with the crude oil market fundamentals
Justifying government's reasons for scrapping the Petroleum Support Fund otherwise known as oil subsidy, Mr. Kachikwu explained that government could no longer afford to subsidize the product following the fraud that has attended its operation.
Kachikkwu said  it had become clear that government earnings were dipping on daily basis, adding that the  price modulation is to help ensure the fluctuation of prices to reflect the realities of the crude oil market.
He, however, said that all efforts were being made to get the refineries to start up to 60% production also in January that will supply about 11 million litres of petrol daily.
"If you look at the new PPPRA template that we developed and which I just signed off two days ago, when it is announced you will find out that for now (and I use the emphatic word of the President 'for now'), the price of the refined product will actually be lower than 87 naira, It will be 85. We will probably announce that in January if the prices hold.
"What that does for you is that its modulating. If it goes up you move up, if it comes down you come down. So we have  take away the fact of having to go find funds to pay for these subsidies that we cannot afford.
"More importantly we try to be as close to the pump price that we have now as possible," he said.