Fayose Has Made Lying His Official Government Policy – Apc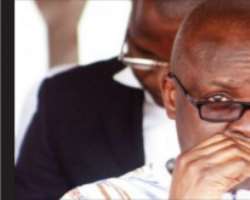 BEVERLY HILLS, December 25, (THEWILL) – The All Progressives Congress, APC, in Ekiti State has accused the state Governor, Mr Ayo Fayose, of making lying his official government policy, advising him to be ready to face charges in court for fabricating figures on the state's debts to deceive people and paint his predecessor, Kayode Fayemi, in bad light.
The party, which was reacting to claims by Fayose's media aide, Lere Olayinka, that Fayemi plunged the state into debts without any commensurate development projects to show for it, stressed that it was only the blind that would not see various development projects executed by the immediate past governor.
Disclosing this in a statement issued by its Publicity Secretary, Taiwo Olatunbosun, the party said: "Fayemi did not borrow to pay salary. He received awards from many international bodies, including the United Nations' agency and top Nigerians, for the feats he recorded in development projects, the last being the award for the state that led in budget transparency among other states in Nigeria that Fayose tried to usurp.
"Fayose lied that Fayemi at a point, collected N9 billion as monthly federal allocation. The records are there that the state monthly share of federal allocation remained N2.8 billion throughout and the biggest being N3.2 billion when excess crude oil fund was shared among the states."
"The former governor owed one month salary, and that was September 2014, and this was as a result of Fayose as governor-elect writing the banks not to honour Fayemi's credit facility to pay workers salary and pay the banks back after receiving the allocation for the month in question," Olatunbosun explained.
He added: "Fayemi paid N2.2 billion monthly for salaries, pensions and subventions to higher institutions throughout his tenure."
"With thousands of workers losing their jobs and many social services suspended, including stoppage of social security stipends to the elderly when Fayose became the governor, monthly wage bill has reduced to less than N2billion contrary to N2.6billion that Fayose is claiming as the monthly wage bill."
While challenging the governor to produce the official debt figure of the State that is different from N18billion that the Debts Management Office declared was the state's debt, Olatunbosun said Fayose was lying by quoting N232billion.
"Fayose is a pathological liar by his claim that the state debt is 232.9billion to be paid back in 21 years. The Federal Ministry of Finance published the state allocations in the newspapers few days ago with the state receiving N1.9billion but Fayose declared that he received N1.3billion.
"This is a man who has introduced all manner of taxes that he can't account for, yet he comes everyday declaring that the state is broke."
"We hereby issue him a deadline of seven days to render accounts of all monies he has received since he assumed office, including various taxes he imposed on the people."
"The civil servants who he owed three months salaries and allowances as well as Ekiti people generally deserve to know how their money is being spent."
The opposition party in the state threatened that should the Governor fail to make public how the state's funds are spent, "it would mobilise civil society groups and all men of good conscience to press for the investigation and prosecution of Fayose who has made lying his official government policy". Olatunbosun concluded.