Toyin Aimakhu Reveals Her Secret Desire (Photo)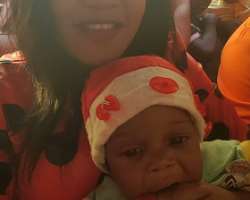 After a painful separation from her 'cheating' husband, Toyin Aimakhu may have decided she is not ready to give marriage a second shot, but the Yoruba actress secretly desires to experience the joy of motherhood any time soon.
The 'Alakada' actress made the confession on her Instagram page when she uploaded a video of a baby scratching its teeth with her hand.
Toyin captioned the video, "This video is so deep,the baby is using my finger to scratch his teeth,hmmm can't wait had fun today.#toyinaimakhuwiththechildren#childrenparty"
Toyin and her actor husband, Adeniyi Johnson got separated few months ago after Toyin discovered her husband was cheating on her.
Although the embattled actor, Johnson made an open confession of his atrocities, apologized and promised to turn a new leaf, Toyin is not ready to give him a second chance.?