How Gov. Obiano's Kitchen Cabinet Frustrated My Plan To Restructure The Anambra State Education Sector Through Scrabble—Okwelogu, Scrabble Legend Speaks Out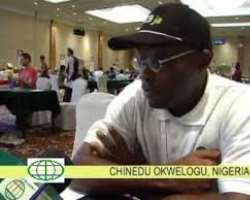 Mr. Chinedu Okwelogu is a native of Okija, Ihiala Local Government Area of Anambra state. He is a force to reckon with in a scrabble game having played over a hundred local and international scrabble championships, and won many prizes.
Okwelogu, who was the first Kano State Scrabble Coach (2004 to 2005), read English and Literary Studies at the University of Port Harcourt in Rivers State, and at present, Assistant Director with the National Orientation Agency (NOA), Anambra state chapter.
In this interview with news48hrs.com CEO/Publisher, Comrade Okechukwu Onuegbu, the young man, popularly known as "SIDESPIN" while recounting his experiences and ordeals in the hands of NSA officials, recommended possible ways of resuscitating Nigeria's education sector and the world of scrabble. Excerpts:
You have been in scrabble over many years now, please tell us your feats
Scrabble is a game of words. It is a mental sport enhancing ones analytical ability in English, Logic, Mathematics, among other subjects and problem solving courses.
I have been winning the game naturally. I became a National Champion in 1994, and subsequently won the Edo Open in 1996, Shell Port Harcourt Open in 1998, Kano Open in 1998, and Delta Open in 2008. I also won the first Scrabble Association of Nigerian (SCAN) International in 2001. (SCAN is now known as Nigeria Scrabble Federation, NSF).
I made my international debut in 1996 at the then African Championship hosted in Nigeria. I came 10th, but missed the 1998 tournament in South Africa due to lack of sponsorship. However, I came second in the year 2000 at Ghana. The record remained like that till 2008 when one of my colleagues, Faloye Ibuku broke it at Kenya.
Nigeria scrabble is one of the dominant scrabbles in the world. After I won SCAN National Championship in 2001, I couldn't win again till 2008 sequel to some little problems which started in 2004. Then, our officials connived to deny us of our financial reward the Former President, Chief Olusegun Obasanjo had pronounced. We learnt that Mr. President gave the Falcons N1million naira each for their four victories in four attempts, while we were given only presidential handshake after emerging victorious in five out of six games we played. We revolted and President Obasanjo approved the similar amount to be dished to us. Unfortunately, my colleague Faloye and I were shut out of the money till date, plus suspension.
Also, I was suspended after receiving presidential award from the erstwhile President Goodluck Jonathan. My first suspension was in 2005, and when it ended in August 2008, I began winning again only to be suspended a second time in 2011.
Why were you suspended?
It was a blanket suspension for the entire team. We were suspended because we refused to give the officials some share of the money President Jonathan gave us. They demanded for 30 percent of the money per a player. Those who received N1 million were supposed to give the officials N300, 000. Some were later pardoned upon paying their blackmail money. But I protested it and was suspended for daring to expose the scam.
Which award was that?
It was Ghana 2010. We went and cleared everything. It wasn't first time we cleared everything but that year's own was so unique because it was first time Nigerian players went out and pulled 1-10 outside the country.
Later, Mr. President through the ministry of sports decided that athletes who had excelled between 2009 and the end of 2010 deserved an award. So, all the gold medal winners at the African Championship and the Continental level were offered N750, 000. At the Olympic level, and the World Championship level, I think it was N1.5 million. So, each one of us received N750, 000. When they wanted to get a share of the money paid to us, all of us in the team resisted. And the entire members were banned in 2011.
I was also maltreated in Malaysia in 2010. As a result, I dragged our National President to EFCC. It is a very long story. If I tell you what he did, you will understand why I took such measure. My price in Ghana was 1500 dollars but it wasn't given to me there, just as we were about to go for the world team championship in Malaysia 2010. Then I had no domiciliary account. The National Secretary received 800 dollars on my behalf, deducted 300 dollars from it as charges, and asked if I had a domiciliary account. I said no, and told him to send the money through President's domiciliary account. That was how I went to Malaysia with nothing; no money, yet I performed very well. I was the best performer for Nigeria in a tournament of the best 10 teams in the world. 9 of the 10 world champions participated. But out of the 9, I met six before disaster occurred and set me off the track. I even beat five out of the six.
I was in top ten moving when my 500 dollars arrived, and the scrabble President told me that what he could offer me was only 36 dollars. You could imagine out of 800 dollars sent to you, you ended-up receiving 36! My mind shattered. I lost the remaining nine games to the three remaining world champions that I hadn't played. So, I came 22nd after losing the 9 straight games. As I returned back to Nigeria, I spilled the beans to everybody. That was the genesis of the problem.
In January when there was no apology from the officials, I took them to EFCC. While this was going on, I made up my mind to quit. Since I was talented in scrabble and might be their victim of maltreatment forever, the best thing was to quit and be on my own. So, I went my way.
How long have you been on your own, and the journey so far?
I am now a scrabble consultant; a scrabble player, scrabble coach, scrabble analyst and commentator. I have been going out to play on my own team for three years now. What I had done in the past was to borrow money to sponsor it myself. The last trip I made during which I won the Malta International game, I obtained a loan of N450, 000 (payable in two years) from UBA Bank, and the money is being deducted from my salary.
In 2011, for instance, I used the money President Jonathan gave me to travel abroad. I came 2nd at the European Championship and 7th at the International.
My vision has been to establish a Nigerian society where illiteracy, drug abuse and gangsterism would be eliminated through youth intellectual involvement in scrabble. While my mission is to restore the dignity of the Nigerian Scrabble Player by stopping their financial emasculation and by increasing their earning capacity, and to maintain Nigeria's formidability through promoting the volitional, contributory and multiple retreat culture.
This is why I am planning to organise Anambra State Secondary School Scrabble Tournament, first of its kind, but my major setback is inability to get sponsors, both the government and private individuals.
Why secondary schools?
As I said earlier, scrabble is a mental sport. It is a game of words which enhances players (people's) vocabularies, analytical ability in English, Logic, Mathematics, among other problem solving subjects and courses. It encompasses all areas in life, and embedded with lots of potentials yet to be explored in Nigeria.
Hosting the tournament among Nigerian students in primary, secondary and/or tertiary institution level would help in standardizing Nigerian education system, avail students greater opportunities to pass their both internal and external examinations like WAEC, NECO, JAMB, NABTEB, etc. It is a game that engenders proper reading culture. Its players are often compelled to study their dictionaries, books, journals, and so on in order to discover new words.
Other potentials inherent from scrabble game are money, critical reasoning, poverty reduction, entrepreneurial spirit, employment and wealth creation, an end to hooliganism, prostitutions, restiveness and insecurity.
Incorporating scrabble game into the primary and secondary school academic curriculum would contribute a lot in resuscitating our educational system.
Why chose Anambra State first instead of Nigeria?
I am not restricting my vision to Anambra state alone. I can organise a befitting scrabble tournament for all students in the whole federation if I get sponsors to that effect. I did it at Kano, and I am ready to do same in any state, schools, town, organization, and so on. The major thing is sponsors because I map out goodies for the best players. These were the things I began in Kano state. I was the first Kano State Scrabble Coach from 2004 to 2005. Over the years I had been engaging in scrabble to schools. These I embark upon for the love of it and not for money. I started studing dictionary as a hobby.
However, I prefer private sector sponsors to government. My present disposition toward the government is one of great disappointment at the cumulative sabotage of my efforts by civil and public servants in both the Ministry of Education recently and the Ministry of Youth and Sports previously.
In order words, you wrote to Anambra State Government Concerning this your plan?
Yes! I wrote to the governor of Anambra State, Chief Willie Obiano; the First Lady, Ebelechukwu Obiano; the Commissioner for Education, Prof. Kate Omenugha this year on my proposed 2015 Ebelechukwu Obiano Secondary School Scrabble Championship.
One of the letters read thus;
'Explanation of the Ebelechukwu Obiano Annual Secondary School Scrabble Championship Project
Dear Hon. Commissioner,
I would like to set forth details of the Ebelechukwu Obiano Annual Secondary School Scrabble Championship as precisely, concisely, and succinctly as possible.
1). The Structure of the Championship
(a) There are intended to be 3 Senatorial Zone Qualifiers (SZQs) and 1 State Final (SF) each one of which will have the same Total Financial Implications of #1,397,000 as the rest.
(b) The Top 10 placers at each SZQ will vie for the Top 10 places at the SF.
(c) The Top 10 at the SF, along with the schoolteachers that produced them, are proposed to represent Anambra State at the World Youth Scrabble Championship and the Thailand Princess Cup each year.
(d) Given the more than 200 schools statewide that are going to be involved, it has been thought fair, feasible, and decongestingly helpful to divide into 21 the #412,000 leftover money from the #6,000,000 requested from the government, resulting in there being #19,619 for token player and teacher prizemoneys of #3,000, #2,500, #2,000, #1,500, #1,000 and #2,500, #1,500, #1,000 respectively, and an organising fee of #4,619 at each of the 21 local government levels.
(e) The Top 3 schools and their teachers will be decided at each administrative level by a simple calculation of their players' cumulative performance in the Top 10.
2). The Objectives of the Championship are:
(a) to set a national benchmark in School Scrabble Development in Nigeria,
(b) to make Anambra State a reference point in international Youth Scrabble championship participation,
(c) by concomitantly getting schoolchildren to unconsciously imbibe the salutary Scrabble study habits of effective memory training and notemaking, and by regularly exposing them to the harsh reality of unaided competition (and by so doing, raising their confidence levels), to gradually, steadily, and surely eradicate the scourge of Examination Malpractice from the secondary school system (with the attendant multiplier effect on the tertiary one),
(d) to varietally enhance schoolchildren's mathematical aptitudes through various applications of mental arithmetic, logic, and even algebraic notation, and their linguistic aptitudes in morphology through a daunting exposure to the English metalexical treasure trove that is the Collins Official Scrabble Words (or the Collins Scrabble Dictionary),
(e) by a more extensive and inclusive prize structure, to create a forum whereby there will be delightful supplementation of student pocket and feeding money, spicy additions to teacher incomes, and a banishment of the phenomenon of lean school purses, in short, to create an enabling environment for the government to make brains with its money, and for the schoolchildren to make money with their brains,
(f) to lay the foundation for a production line of future Nigerian National and International Scrabble Champions from Igboland who will succeed (1) Chijioke Uzor from Ihioma, Imo State, who became champion in 1987, (2) Azubuike Ogbogu from Asaba, Delta State, who became champion in 1989, (3) Ifeanyi Onyeonwu from Ogbunike, Anambra State, who became champion in 1990, and (4) Chinedu Okwelogu from Okija, Anambra State, who became champion in 1994, three of whom are the only claim the entire Southeast Geopolitical Zone can make to Professional Tournament Scrabble Stardom out of 34 Nigerian Scrabble Champions,and
(g) to engage the minds of youths who would otherwise be tempted into drug abuse and gangsterism.
3). Additional Requirements
(a) The Time Management element of Scrabble training and competition can have full realisation only when Scrabble Timers/Chess Clocks are used as regulators of playing time. 200 schools divided by 21 L.G.A.s is 9.5 schools. Let us say there are 10 participating schools @ 5 players per school. That will be equal to 50 players at each Local Government Elimination. Then, since standard Tournament Scrabble is played on a 1 versus 1 basis, we are likely to need to set up 25 tables with 25 boards and 25 timers. The Ministry of Education needs to purchase at least 25 Scrabble Timers for a meaningful embarkation on the project, for my relatively small acquisition of 8 functional clocks will be grossly inadequate. The source to go to for that purchase is American Scrabble equipment manufacturer Sam Kantimathi. His website is www.samtimer.com, and his email address is [email protected] I still owe him $1,300 on the last supply of equipment I received from him, and so cannot reasonably make further requests of him. But you can deal directly with him and negociate huge discounts.
(b) The word authority of the World English-Scrabble Players Association (WESPA) is the 2011 Edition of the Official Collins Scrabble Words (CSW). It is updated every 5 years, and so the next one should normally be expected in 2016. But no, because of lexicographic rivalry between the North American Scrabble Players Association (NASPA) and WESPA, the NASPA issuance in 2014 of their latest Merriam-Webster Official Word List (OWL) and restricted access to it have made WESPA prepare an early update of the CSW which will go on sale on 7 May, 2015. We shall need to equip schools, or encourage them to equip themselves, with the CSW 2015 whenever it is available. One reliable Collins Scrabble Words supplier in Nigeria is Zamani Bookshop in Kano and Abuja. They sell the cheapest in Nigeria owing to their being directly supplied by Collins. The Zamani Managing Director's phone number is 08037043327. They are Itshekiris and their bookshop, founded by their dad in 1959, is the oldest in Northern Nigeria.
(c) Later on in the programme, desktops, laptops, notebooks, and palmtops will need to be acquired for the purpose of tournament direction by officials and self-adjudication of played words by players themselves. The current North American and imminent Rest-of-the-World dictionary changes have created some uncertainty in the World Scrabble community regarding relevance and downloadability of software. So we shall not exactly be obsolescent if we continue in the traditional pageflipping mode.
(d) The Ministry will need to acquire 6 DemoBoards (Demonstration Boards) for the purpose of more effective Scrabble lecture delivery: 1 each for the 3 senatorial zones, 1 for the Post Primary Schools Management Commission, 1 for the State Ministry of Education Headquarters, and (hopefully) 1 for Sidespin Scrabble Solutions. The maker is Wale Ilori, a Lagos-based National Scrabble Master. Each DemoBoard will cost #70,000 including shipping by ABC Transport Company from Jibowu in Lagos to Arroma in Awka. Wale's phone number is 08056214783.
(e) Train-the-Trainer workshops will be needed. It wold be most edifying if the Ministry of Education could issue certificates of participation to teachers who attend he workshops, while Sidespin Scrabble Solutions sees to the issuance of proficiency certificates to placers in the Top 5 at the State Final.
4). The World Youth Scrabble Championship and Thailand Princess Cup
These two are the flagship international Youth Scrabble events on the WESPA calendar. As you will learn from the World Scrabble website, www.wespa.org, Karen Richards is the Chair of Youth Scrabble and the founder of the World Youth Scrabble Championship. She is Australian and her email address is: [email protected] She was exasperated with me over what she construed to be my negligence and ineptitude in my botched attempt to get Anambra State to attend Dubai 2013, not knowing I had been sabotaged by the then Scrabble Secretary in the Ministry of Youth and Sports. I am sure she will be delighted to hear from you or Her Excellency, that Anambra State is definitely sending a team to Australia 2015 in Perth at the end of November. Also, the main World Championship will kick off directly the WYSC is concluded. It will be another milestone if Anambra State has representation there, too.
Finally, I would love to be given the professional pleasure of my inviting from time to time the following national players to come to Anambra State and spice up the Scrabble-teaching scenario as Expert Trainers: (1) Grandmaster Ayo Fasheiro of Lagos State who was the first Nigerian player to start formal Scrabble teaching in schools, (2) and (3) Noble Onoshevwe and Julius Omovie of Delta State (the most powerful Scrabble-playing State in Nigeria) whom I offered my position in 2009, to train the Anambra State Scrabble contingent to the 2009 National Sports Festival in Kaduna, because I was too far away in Kano and was expecting a consignment of Scrabble equipment from Sam Kantimathi which I had to be physically present at the Aminu Kano Airport to receive, and (4) Anambra State's current best Scrabble player, Chuka Amafo of the Obosi Playing Group, and (5) and (6)Arinze Okechukwu and Joseph Okeke of the Unizik Playing Group as Coaching Assistants. Ms. Damilola, an NYSC member serving with the Ministry of Youth and Sports will be an inspiration to female students if she is involved.
Tournament Scrabble play is tremendous mental hard work, and players deserve to get remuneration for their exertions with minimal hindrance. I wish by this and subsequent Scrabble projects to make a statement as to how Scrabble can be made a socioeconomic uplifter of its practitioners without officials becoming slavemasters and players slaves.
Sincerely yours in Scrabble,
Chinedu 'Sidespin' Okwelogu
Governor Obiano responded to my apprising him of the proposed Ebelechukwu Obiano Secondary School Scrabble Championship, set up a panel which I faced, and handed the project to the Ministry of Education (at my insistence) who systematically and methodically killed it.
Also, I wrote to the Governor requesting for his Excellency's personal intervention in Chinedu Okwelogu's attendance of the 30th king's cup in Thailand and the world English-scrabble Players Association Championship in Australia. The letter read;
REQUEST FOR YOUR EXCELLENCY'S PERSONAL INTERVENTION IN CHINEDU OKWELOGU'S ATTENDANCE OF THE 30TH KING'S CUP IN THAILAND AND THE WORLD ENGLISH-SCRABBLE PLAYERS ASSOCIATION CHAMPIONSHIP IN AUSTRALIA
1(a)
I am Chinedu 'Sidespin' Okwelogu, the Tournament Scrabble Consultant who wrote to you roughly two months ago about earthshaking plans he had for you and him in the area of Tournament Scrabble organisation, but who expressed his preference for your first telling him what you thought about a Secondary School Scrabble project he wished to organise in the name of your wife, Her Excellency, Mrs. Ebelechukwu Obiano, before the trailblazing Obiano-Sidespin concept was gone into.
Additionally, I am a multiple National and International Scrabble Champion, a former Nigerian No.1 (2001), former Nigerian No. 2 (1994 and 2008), World No.8 (2001), and World No.10 (2002); I came 2nd at the 2000 Africa Scrabble Championship in Ghana, and 3rd at the 2008 and 2010 ASC editions held in Kenya and Ghana respectively; and I was part of the Bronze-winning Nigerian 5-man team to the 2008 Causeway World Scrabble Team Challenge in Malaysia.
Furthermore, Sir, I am the only player of Southeast Nigeria origin currently in the World Top 100 (verifiable on the World Scrabble website of www.wespa.org), having played a very significant role in placing Nigeria as the world's second best Scrabble-playing nation. I have since dropped out of the Top 50 and am now hovering between #68 and #70 because of inactivity following upon a relatively poor 10th position performance in Sri Lanka in 2013.. Out of 4 Nigerian National Scrabble Champions of Igbo extraction, of the 34 Nigerian Scrabble Champions so far had, only Azubuike Ogbogu of Asaba, Delta State and I, Chinedu Okwelogu, of Okija, Anambra State are still active, the other two, Chijioke Uzo of Ihioma, Imo State, and Ifeanyi Onyeonwu of Ogbunike in Anambra State being retired.
1(b)
I write this letter to you to entreat you, after fruitlessly exploring other avenues, to assist me attend two of the several major World Scrabble events in 2015: (1) the 30th King's Cup in Bangkok, Thailand, from July 2 to July 5, 2015, and (2) the World Championship (called the WESPA Championship) Last Chance Qualifier and Main Event/Parallel Events in Perth, Australia from November 3 to 8, 2015.
Honestly, I never wanted to disturb you about this, believing I could sponsor myself with moderate earnings from my Scrabble Consultancy with the Anambra State Government. But since the said consultancy is yet to get off the ground, I am left with no option but to make a direct appeal to you for assistance.
Information regarding these two events can be found on the website: www.wespa.org. I would have forwarded to you the reminder sent to me about my attendance of the Thailand King's Cup, but found that your email address did not accept forwardings. Nevertheless, my invitation can be verified from Mr. Kent Purinth of the Thailand Crossword Association who has repeatedly invited me over the years without my being able to honour it.
2(a)
Your sponsoring me to Thailand and Australia for these events will give me the opportunity (predicated on my determination to win) to project Anambra State further in the world of sports, particularly in the hemisphere of academic and intellectual sports, under your watch, unfavourable Ministry of Youth and Sports circumstances having militated against this being achieved under the watch of ex-Governor Peter Obi.
2(b)
Another reason for the urgency here is that WESPA stipulates that any player who goes inactive internationally for more than 24 months shall be removed from the Active Player List (which is the one viewable on the website) and placed on the Dormant List (which takes some retrieving before being viewed). Since I was last active in August, 2013, if I do not maintain that activity before August, 2015, I shall be classified as dormant and, to all intents and purposes, the Igbo Ethnic Group will have no representative in the world's Top 100 International Scrabble Players. What a big shame that would be, Your Excellency.
I am waxing so detailed to you here because I have found it frustratingly difficult to reach you in person, and it is not a subject that can effectively be explained cursorily to a civil servant.
2(c)
I am a reference point in Southeast Nigerian Scrabble. Being able to compete against the world's best in Thailand and Australia will help encourage others to want to be reference points, too.
3
PRAYER
In light of the above, Your Excellency, I most respectfully entreat you to use your executive fiat, not only to supersede the steady slowness of the bureaucratic establishment to make the funds available to me in the less than two weeks I have before Thailand, but also to enable me scale the NDLEA and Police Clearance hurdles requisite for the issuance of the Thailand visa.
The matter of the Australia visa obtainment can be addressed upon my return from Thailand.
I shall be eternally grateful to you, Your Excellency, if you could aid me in this professional Scrabble venture.
What was your reaction to the government when your project was frustrated?
I wrote him back under the title 'What A Great Pity, Your Excellency'
Greetings, Your Excellency,
On an objective note....
If you comprehended the huge political capital you stood to make by sending a contingent to the just concluded bipartite World Scrabble Championships in Australia, you certainly did not show it.
With the emergence of Wellington Jighere of Delta State as the new World Scrabble Champion on November 8 (without your representatives being there), you have lost the opportunity I offered you to partner with me in the making of history (by our merely being present at the events, which presence would have justified our making hosting bids for a future WYSC and/or WSC before your first tenure elapsed, which would have constituted a first in Africa, of a head of government in Africa making such a bid and succeeding), and you have frittered away a golden opportunity to display budding and established Anambra State Scrabble talent on the global stage.
This is without even mentioning the possibility that I could have won the World Scrabble Championship myself! The Nigerians that featured there were very recently my national teammates whose captain I was to the 2009 World Scrabble Championship in Malaysia. My present state of national Scrabble ostracism is on account of my fight against institutionalised blackmail and extortion prolongedly inflicted on us players by national Scrabble officials, and a consequent revengeful mission of humiliation and mental torture by said officials against my person. I have since withdrawn my membership of that body called the Nigeria Scrabble Federation.
By your ignoration of my entreaties, and Anambra State's consequent absence at the 2015 World Scrabble events, you have lost the opportunity to pioneer a major shift in Nigerian socioeducational policy direction. Whatever you do now will be belated at best (if not considered outright gatecrashing), because other governors of states whose indigenes were in the Team Nigeria to Australia will definitely and deservedly capitalise on the fortuitous positive publicity accruing to them.
Also, you have lost a veritable opportunity to showcase Anambra State's immense tourism potential to the Scrabble World. That was why I included the Scrabble-playing Chief Tourism Officer Nneka Nwankwo and the Scrabble-playing Chief Graphics Officer Ifeatu Oraelosi, both of the Anambra State Ministry of Information, Culture, and Tourism, in the contingent. It was going to be a packaging expedition of Anambra State, in addition to the playing one.
On a subjective note....
I saw in you, Governor Willy Obiano, a father figure in whom I could repose the greatest confidence. I saw in Education Commissioner Kate Omenugha, Permanent Secretary Beatrice Nwankwo, and Deputy Director Monica Okoye three mother figures in whom I could repose the greatest trust (the men of the Youth and Sports Ministry having disappointed me), who would treat me as their baby and guide me to project Anambra State most auspiciously to the world.
But alas, I was too trusting of the four of you!
I placed my unabridged Consultant Scrabble life at your disposal, and my entire professional World Scrabble Championship aspirations in your hands. I trustingly left no escape route or alternative way out for myself, believing you four would never let me down. I kept being dribbled by the ladies and their subordinates (despite my responding to every call from them, to present myself at their office to make clarifications and elucidations on the Ebelechukwu Obiano School Scrabble project), and I kept being ignored by you (despite my Progress Reports to you).
All that just one of you four could have mercifully done to prevent this colossal personal loss of mine was make just one sentence to me, spokenly or writtenly, - 'Sorry, Chinedu, Anambra State does not wish to go to Australia' or 'Chinedu, we're thinking of undertaking the expedition in 2016, not this year' - and I would have gratefully raised money for myself and applied for the Australian visa in good time. But no, the World Scrabble Championship file was conveniently kept out of view for months, all my inquiries deftly circumvented, and a stony silence unrepentantly and unrelentingly maintained.
I faced your investigative, Joe-Billy Ekwunife-led ANSIPPA panel in March, the Ministry of Education made contact with me shortly thereafter, and up till October, I was still being dribbled all over the place.
I sacrificed my attendance of the 2013 and 2014 World Scrabble Championships on the altar of making spirited efforts to get Anambra State to the junior World Scrabble stage - the Ministry of Youth and Sports sabotaged me.
I tried the Ministry of Education in 2015 - see what they did to me.
Something is definitely wrong with somebody - me!
It is only a compound idiot who insists on doing business with people who keep betraying his trust.
I am now wiser, and will stop trusting people stupidly.
If it had been a white man from the United Nations or the European Union, who made my presentations to your government and asked for a payment of five million naira for his services, your government would have fallen over itself to engage the white man and make the payment.
But because I was a bloody black man, a bloody African, a bloody Nigerian, a bloodier Igbo man, and the bloodiest of Anambrarians, my passionate drive to make Anambra State the most unique entity in the universe of Tournament Scrabble was construed to be a mere exercise in the utmost beggarliness and was ruthlessly and remorselessly extinguished. I was treated like a beggar whereas all I had done was place my considerable expertise at the disposal of the government.
What was my crime?
Nothing but my having been operating on the international Scrabble scene as a lone tree in the wilderness and wanting and inviting my brothers and sisters of the Southeast Geopolitical Zone in general and Anambra State in particular to join me in making history.
I thank Your Excellency and the three mentioned ladies for further wrecking my international Tournament Scrabble life.