FG plans privatisation of Lagos, Abuja, PH, Kano airports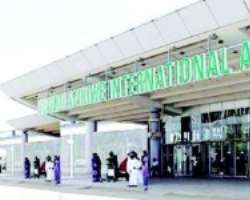 The Federal Government has plans to concession the management of the Lagos, Abuja, Port Harcourt and Kano airports to private investors, the Minister of Transportation, Rotimi Amaechi, disclosed  in Lagos on Wednesday.
Amaechi, who was on a fact-finding tour of facilities and agencies at the Murtala Muhammed Airport,said the planned concession of the four airports was to guarantee efficiency and good management in view of dwindling resources from the government for infrastructural development in the aviation industry. .
In the minister's entourage are the Minister of State for Aviation, Hadi Sirika; Director-General, Nigerian Civil Aviation Authority, Muhtar Usman; Managing Director of the Federal Airports Authority of Nigeria, Saleh Dunoma; and the Nigerian Airspace Management Agency, Ibrahim Abdulsalam; as well as the Director-General, Nigeria Meteorological Agency, Dr. Anthony Anuforom, among others.
Amaechi however did not disclose the airports that would be privatised.
 But a report by Punch indicates  that the Lagos airport; the Nnamdi Azikiwe International Airport, Abuja; the Port Harcourt International Airport; and the Mallam Aminu Kano International Airport, Kano were the aerodromes slated for concession.
Amaechi also gave December 2016 as the deadline for the completion of the four major international airport terminals under construction in Lagos, Abuja, Port Harcourt and Kano.
According to him, at  completion, the Lagos airport would handle 15 million passengers annually, while the others would handle additional 15 million passengers to bring the total traffic to 30 million passengers annually.
The minister said, "The new terminal in Lagos will generate additional 15 million passengers annually, making a total of 30 million passengers yearly nationwide. The medium and long-term plans will require significant investments to upgrade and expand infrastructure to meet current and future requirements.
"As a result of limited resources for capital project development, the government is exploring the possibility of private sector participation towards the realisation of the industries' potential."
Amaechi stated that there was an urgent need to continue to improve on infrastructure, noting that out of the four conveyor belts in the Lagos airport, two had broken down.
He said the government would also enact laws to open up the sector to new investments that would lead to economic prosperity.
Ameachi, who described the tour as necessary to enable the ministry firm up its policy direction in line with the determination of the President Muhammadu Buhari administration to improve critical infrastructure that would help to reflate the economy, said the transport sector held the key to the economy and formed the basis of all socio-economic interactions.
"Nigeria suffers the bane of inadequate transportation but perhaps worse than other countries. Nigeria's huge population puts enormous pressure on a very poor transport infrastructure that bedevils the nation," he said.