Singer .r. Kelly Walks Out Of Live Interview When Asked About Sexual Abuse Allegations, Watch Video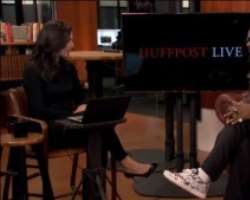 BEVERLY HILLS, December 24, (THEWILL) – R.kelly's past came back to haunt him while he made rounds promoting his new album, Buffet. In the video which has gone viral, the R&B star sat down with Caroline Modarressy-Tehrani of Huffington Post to discuss the album when the host launched into questions concerning the numerous sexual abuse allegations against him and how they might be affecting his album sales.
Hinting that a lot of people cannot think about R.kelly without thinking of the multiple lawsuits accusing the singer of sexually abusing underage girls while reading out a tweet by a twitter user, Caroline asked, "Some people say that they're conflicted—that they want to support the music because they think musically you are a genius. But they can't support you; what do you say about fans who are conflicted?"
He answered, "I say fuck that. I say I have a lot of fans around the world that love R. Kelly and I'm glad that they don't feel the way she do, God bless her. But you can't satisfy everybody and you're not gonna always have everybody to hold you down you know… I'm just glad to know that everybody doesn't feel the way that she does."
Obviously not satisfied, the presenter went on to ask, "Sex is mentioned frequently in your lyrics. In many of your songs, you talk about having sex with multiple women; would you say you have a healthy relationship with sex and that that is reflected musically?"
To which an irritated Kelly answered, "I would have to say this, I did not come here to be interrogated. I didn't come here for a deposition – Do you know what a deposition is?"
He continued, "This is a deposition. This is not about R. Kelly. This is not about music. This is not about someone who works hard on his music who has an album out. This is about trying to interrogate me and this is about disrespect."
After a few more jabs and exchanges with the lady, R.Kelly got up and walked out of the interview.
See the very awkward interview below!