Eight ways to naturally lower blood pressure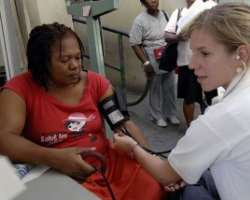 Lowering your blood pressure below current guidelines may save your life. Maintaining a systolic blood pressure of 120 millimeters of mercury (mm Hg) — instead of the current guidelines for 140 mm Hg — could reduce risk of heart attack and cardiovascular death, according to study results from the National Institutes of Health's Systolic Blood Pressure Intervention Trial (SPRINT) . It's what the Physicians Committee already recommends in our "Eight Ways to Naturally Lower Blood Pressure" report .
In the NIH study of people 50 years or older, blood pressure medication was used to achieve a target systolic pressure of 120 mm Hg. That reduced rates of cardiovascular events, such as heart attack and heart failure, as well as stroke, by almost a third and the risk of death by almost a quarter, as compared to the target systolic pressure of 140 mm Hg.
Of course, you'll want to talk to your physician about the best way to reach your ideal blood pressure. But remember that medications aren't the only route to lower blood pressure. You can start lowering your blood pressure today with these "Eight Ways to Naturally Lower Blood Pressure" outlined below and detailed in the report. Then make sure to share the tips with your doctor at your next visit.
Eight Ways to Lower Blood Pressure
Know Your Numbers. Aim for a total blood pressure less than 120/80 mm Hg.
Choose Plant-Based Foods. Vegetarian diets lower blood pressure by 7/5 mm Hg.
Reduce Salt Intake. Adults should consume no more than 1,500 mg of sodium each day.
Power Up with Potassium. Consume at least 4,700 mg of potassium each day by consuming plenty of fruits and vegetables.
Maintain a Healthy Weight. Maintain a trim waistline. Keep BMI between 18.5 and 24.9. A plant-based diet can help you get there.
Exercise. Participate in at least 30 minutes of moderate physical activity each day.
Limit Alcohol Intake. Limit alcohol consumption. Women should consume less than one drink per day (due to breast cancer risk), men no more than two.
Avoid Tobacco. Smoking doubles your risk for heart disease.
0

2015-09-11-1441996570-8314587-InfographicBloodPressure.jpg
Follow Neal Barnard, M.D. on Twitter: www.twitter.com/DrNealBarnard