Kudos For President Buhari's 2016 Budget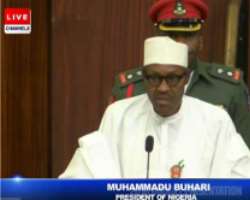 Preliminary indications from PMB's 2016 budget are positive and Nigerians applaud and welcome the budget. Of course we only have the preliminary numbers, the devil is always in the detail, so while I am happy now I reserve the rights to change my mind when we see the details.
I am so happy because the budget sees education as the number one problem to be solved and therefore allocates a significant portion to it. Health was considered item number two, both before security which came in third. The statement "While reiterating his (PMB) commitment to economic diversification, he said farming and mining would be given special focus" makes my heart to rejoice. I had written severally that the focus on security and fighting corruption while popular should be put on the side burner. When our people are educated and healthy and well fed, then they will be able to face other questions. Survival is the first law of nature and that is where our fights should begin.
One word of caution on the education allocation. Nigeria has enough universities and need not build any new ones, instead it should pick one university in each zone and make it the first among the equals in that zone. Nsukka, Ibadan, Zaria, Benin, as the oldest in their zones should be the starting points. The goal will be to rapidly bring them up as at least one of the top 20 in Africa. Ibadan was once on top in the world as part of University of London, it has the best prospect of getting there again. But the emphasis in the education budget ought to be in primary, high and trade schools. There cannot be a good high school without a good primary school. And there cannot be a good university with good high schools. It is a continuum.
The emphasis on trade/technical schools is that they could be terminal schools by providing their students skills that would enable them become earners and provid the economy much required blue collar workers. The N1.8 trillion capital budget calls for much construction. We will need many good carpenters, masons, computer technicians, electricians, etc. Those trade/technical schools would come in handy.
The education formula could be copied to the health field with six hospitals one from each zone becoming a national world level hospital specializing in one area of medical care. The idea of zonal centers of excellence is to make each medical center or university a model for the zone. State educational systems or health facilities would then mimic the federal institutions. Enugu state for example, would then have a center of excellence in Awgu, Udi, and Nsukka. And the local governments would mimic the state structures. If this script is followed, then the three tier government would work as intended and development would reach all corners of Nigeria.
We now come to the honorable mention that agriculture and mining received. It is unfortunate that we are learning about the value of economic diversification the hard way but better late than never. Nigeria was once an exporter of gold, coal, oil palm products peanuts, cocoa, etc. Then came easy money in oil and we forgot everything and went for the easy money. I am glad that we will be discovering our roots again.
It is not all good news for PMB as illustrated by this report:
On the hardship been faced by Nigerians as a result of fuel scarcity, the President apologised for the situation, admitting he was aware the scarcity had caused social dislocation across the country He blamed the scarcity on speculators and those "resisting change" and assured Nigerians government was working hard to cushion the difficulty.The President said has directed the Petroleum Product Pricing Regulatory Authority to continue the sell of petrol at N87 per litre for now.
PMB misstated the facts when he blamed the scarcity on speculators. If he is sure of his position he should pump more gas to petrol stations which will force speculators out as they would run out spaces to store more fuel. In US and other countries when the speculators unduly increase oil prices the Federal government releases fuel from Strategic Reserve and force the price down. Nigeria does not have any reserves so fuel is really scarce. The other mistake the president made was asking regulatory authorities to continue to sell petrol at N87/ litre. This is economic suicide. Anytime a government tries to interfere with economic laws the government makes things worse. Economic laws, like natural laws, are beyond the reach of politicians. There is no short term solutions beyond allowing the forces of the market to determine the price of petrol. Such a price hike, will force families to spend this Christmas where they are instead of rushing down to Onitsha, Enugu, Nnewi, Abriba, Achi, etc., villages to celebrate. Long term solutions include rebuilding the Eastern Railway and other systems that died with Dr. Ikejiani, building up refinery capacities and distribution network, etc. In the interim the people will be allowed to feel the austerity. One cannot live as if one has not lost anything when he Hs indeed lost half his wealth. We must downsize.
Who prepared this budget? I would like to see more of the Finance Minister. Her absence when we are talking of finance gives the impression that she is not in charge. The budget is her baby and she must be seen as owning it. She has not failed and should be supported and empowered. If she needs a little more learning experience this is the opportunity for training. She may not immediately rise to the high standard of Ms. Ngozi Okonjo-Iweala but that will come with time.
On the whole the budget appears to be on the right track but we will have to wait for details before jumping up and down
This is a good start.
Written by Benjamin Obiajulu Aduba.
Disclaimer:

"The views/contents expressed in this article are the sole responsibility of the author(s) and do not necessarily reflect those of The Nigerian Voice. The Nigerian Voice will not be responsible or liable for any inaccurate or incorrect statements contained in this article."