Diaspora funds hedge Naira against Dollar at parallel market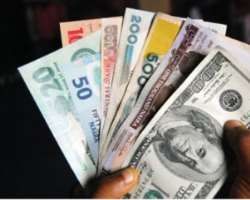 The Naira on Wednesday firmed against the dollar at the parallel market as Nigerians in Diaspora returned home for the yuletide season.
The News Agency of Nigeria (NAN) reported that the naira gained N5 to exchange at N265 to the dollar on Wednesday afternoon.
It, however, exchanged at N197 to the dollar at the official interbank window.
Traders at the parallel market said that the naira hedged against the dollar due to funds remitted home by Nigerians living abroad.
Sponsored Advert:
VACANCY! VACANCY!! VACANCY!!!
Job Position: Chief Accountant at an Agro-Allied Conglomerate in Delta State
Click here for details