Delta Guber: Appeal Court Faults Report, Says No Justice Was Sacked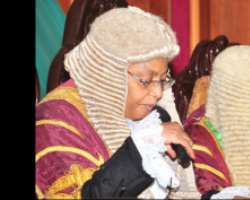 BEVERLY HILLS, December 23, (THEWILL) – The Court of Appeal Wednesday faulted a report by controversial online news site, Sahara Reporters, credited to the President of the Court (PCA), Hon. Justice Zainab Adamu Bulkachuwa, alleging that she sacked five Justices of the Benin Division of the Court.
Describing the report as untrue in a statement signed by the Head of Media and Publicity of the Court, Mrs. Sa'adatu Musa, the Court said that there was never a time any Justice of the Court of Appeal was sacked by the PCA or any other authority, stressing that the President of the Court of Appeal has no constitutional powers to sack any Justice of the Court.
According to the statement, it is only the National Judicial Council (NJC) that has the constitutional powers after following due process to discipline any erring Justice on proven facts or to recommend his dismissal to the President.
It added that it is the President of the Federal Republic of Nigeria that has the power to sack a Justice of the Court.
The statement further said: "The online post that five Justices of the Court had been sacked for corruption is baseless and maliciously reported by ignorant individuals who are not abreast with the provision of the Constitution and the workings of the Judiciary.
"The fact that Justices of the Benin Division of the Court did not hear the Delta Governorship Appeal should not be considered a dent on their character, competence or ability to discharge their judicial function.
"The Justices of the Court have the whole of Nigeria as their constituency. They are therefore competent to sit and determine a matter anywhere in Nigeria.
"During the course of election appeals which had only a life span of 60 days, the Justices had been empanelled to move to any jurisdiction to hear election appeals in Divisions other than their own.
"The Justices under consideration were assigned to other Divisions to determine matters at the material time which is in line with the standing practice of the Court of moving its Justices from different Judicial Divisions to ensure transparency and impartiality and same was adapted for all the Election Petition Appeal Panels.
"Justices of the Court of Appeal would remain as resilient as ever and would not be distracted by the misleading report.
"It would be recalled that the Chief Justice of Nigeria (CJN) Hon. Justice Mahmud Mohammed (GCON) during the just concluded annual Justices Conference of the Court of Appeal, commended the extraordinary effort of the Justices for speedy dispensation of Election Appeals despite their frightening caseloads."