Hrw Accuses Soldiers Of Killing And Burying 300 Shi'ite Members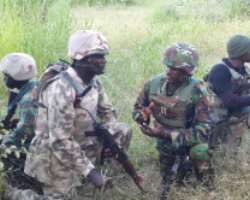 SAN FRANCISCO, December 23, (THEWILL) – An international Non-Governmental Organization, the Human Rights Watch, HRW, has alleged that no fewer than 300 members of the Islamic Movement of Nigeria, IMN, better known as Shi'ites, were killed by the Nigerian army.
The body, which requested President Muhammadu Buhari to halt human right abuses in the Nigerian military, stressed that "The killing of hundreds of Shia Muslim members of the Islamic Movement of Nigeria (IMN), by Nigerian army soldiers from December 12 to 14, 2015, appears to have been wholly unjustified."
This was contained in a statement issued by its Africa director, Daniel Bekele, which reads: "Human Rights Watch interviewed 16 witnesses to the killings and five others, including local authorities, who said that Nigerian army soldiers fired on Shia Muslim members of the group at three locations in Zaria, in northern Nigeria.
"The army said its confrontation with the Shia sect members who had erected a makeshift roadblock near a mosque resulted from an assassination attempt on the army chief of staff, Lieutenant General Tukur Buratai, whose convoy was passing by."
"In an internal military document seen by Human Rights Watch, the army said protesters appeared to be taking up positions near the back of the convoy."
While claiming that the Nigerian military's account of what transpired does not stack up, HRW lamented that it is shocking that the Presidency responded by dismissing the incident as a military affair.
"It is almost impossible to see how a roadblock by angry young men could justify the killings of hundreds of people. At best it was a brutal overreaction and at worst it was a planned attack on the minority Shia group," Bekele said.
"Characterising this terrible carnage against Shiites in Zaria as 'a military affair' is shocking. President Buhari should ensure the military's appalling track record of serious human rights abuses is halted and does not continue under his term in office," he added.
The HRW noted that while Governor Nasir el-Rufai of Kaduna state has announced the establishment of a state judicial commission of inquiry into the incident, the President has been silent over the deaths of the Shia members.
The statement further read, "At least 300 Shia sect members, and likely many more, were killed and hundreds more injured, according to witnesses in at least two of the sites and a hospital source."
"Soldiers quickly buried the bodies in mass graves without family members' permission, making it difficult to determine an accurate death toll."